2021 Domestic Violence-Related Deaths in Wisconsin
 As of December 27th, at least 108 Wisconsin lives have been lost to domestic violence in 2021. That's one person killed every 3.3 days.   19% of victims were age 18 or under.  Our website defines domestic violence-related death somewhat differently than the state coalition, End Abuse, WI.  We consider sibling and parent/child incidents also as domestic violence, including family cases where intimate partner violence may not have been a factor.  We believe that all incidents that happen within a family or intimate partner relationship constitute domestic violence.  Several cases are suspected, but as charges are still pending, have been added to the totals, but not detailed on this website.
January 6th:  Jesus Medrano Jr., Age 49 and Latrice Meyers-Medrano, Age 36 – Kenosha
Wisconsin authorities allege a Wisconsin man murdered his father and his stepmom after being caught molesting a minor in the family's Kenosha home.  A press release from Kenosha Police confirms Latrice Meyers-Medrano, 36, and her husband, Jesus "Jesse" Medrano, Jr., 49, were stabbed to death last week. Inside the home at the time of the crime, police said, were four other children.  Police have detained Jesus V. Medrano III, 24, on two counts of first-degree intentional homicide, attempted first-degree sexual assault and physical abuse of a child. He remains behind bars on $2.5 million bond.  Officers were initially dispatched to the couple's home Wednesday morning at around 4:30 a.m. "to investigate a possible sex crime." When they arrived, officers "discovered that some type of struggle had taken place," reads the release.  Not long after, they found the couple dead inside a bedroom.  The criminal complaint in the case reports police noted there was blood on the walls of the home. The complaint alleges the suspect carried out the killings with a machete.  The complaint alleges the killings happened after his father caught Medrano molesting a child in the home.
It is alleged in the criminal complaint Medrano said he'd recently been having sexual thoughts about an underage girl, and decided to act upon those impulses. He allegedly said he entered her bedroom with the machete and a pair of socks, to stifle her screams. The girl fought back, and, hearing the commotion, the father came into the room, according to the complaint.  Medrano allegedly told detectives he stabbed his father with the machete as his stepmother was approaching the bedroom door, and that he said he chased after her, leaping over his father's body, according to the complaint.  The elder Medrano and Meyers-Medrano were pronounced dead at the scene.  Police found the suspect at his brother's house. Still allegedly wielding the machete, Medrano was ordered to drop the weapon. Before eventually complying with police orders, he asked them to kill him, investigators allege in the criminal complaint.  Medrano, who faces life in prison if convicted, has yet to enter pleas to the charges he faces.
January 9th:  Justin A. Blackhawk, Age 41,  Milwaukee, WI

Just before 4:30 a.m. in the 5200 block of North Sherman Boulevard, a 41-year-old Milwaukee man was shot and killed after an argument.
January 9th:  Harper, Age 4 days old – Albany, WI

A 16-year-old father allegedly told prosecutors he left his newborn daughter to die in snow-filled tree before later admitting to shooting the little girl twice in the head.  The teen, identified as Logan Kruckenberg-Anderson, faces a first-degree homicide charge in connection with the infant's death. A criminal complaint, filed Tuesday, detailed what the teenage father told investigators who had been searching for the baby.  According to the complaint, Kruckenberg-Anderson told them he placed the newborn baby, who had been named Harper, naked in a snow-filled tree in the woods near of the Village of Albany. Prosecutors say he claimed to have covered the infant with snow and walked away, adding that he knew the child would likely die of exposure.  Kruckenberg-Anderson reportedly continued, saying he could still hear Harper crying as he left, causing him to break down, dropping to his knees and crying.  After leading to investigators to Harper's body, the complaint states, a member of the Wisconsin State Crime lab found the girl had been shot and surmised the baby was likely alive – or recently alive – when she was placed in the tree.  In an interview following the discovery of Harper's body and bullet wounds, Kruckenberg-Anderson admitted to shooting her twice in the head, the complaint states, noting that two bullets were found at the scene where she was discovered.  An autopsy determined Harper was alive when she was shot.
Kruckenberg-Anderson is also charged with hiding the corpse of a child. He appeared in court for the first time Tuesday afternoon where his cash bond was set at one million dollars. He is due back in court on January 20 for a preliminary hearing.  The complaint states a man called Green Co. authorities early Saturday morning, saying his teenage daughter gave birth to a daughter four days earlier, on January 5, in the bathtub of a Village of Albany home. The caller added Kruckenberg-Anderson had taken the baby and they had not seen her since.  The child's mother told investigators she and Kruckenberg-Anderson had decided they could not keep the child and needed to do something so the infant wasn't in their life, the complaint stated.  Initially, Kruckenberg-Anderson allegedly told a Green Co. deputy that he gave the baby to a friend named Tyler, whom he met via Snapchat's "Quick Add" feature, and Tyler was supposed to take the baby to an adoption agency in Madison.  Kruckenberg-Anderson even offered details about the man, offering a description of him and the SUV he was reportedly driving as well as saying he paid the individual $60 to drop of the baby to be adopted, the complaint said.  Investigators also believe they have recovered the gun used to kill Harper. They say a juvenile turned in a firearm, saying Kruckenberg-Anderson gave it to him days earlier. The weapon's caliber was consistent with the bullets and casings found at the scene.
January 14th:  Unnamed Baby, Age 3 months- Wausau
A Wausau man has been arrested in relation to the death of an infant.  According to Wausau Police Captain Ben Graham, police were notified on Saturday, January 9, of a 3-month-old at Aspirus Wausau Hospital with an unexplained life-threatening brain injury. He says a criminal investigation into the incident began immediately.  Police say the infant was brought to the hospital by his mother and father. He was soon transferred to Marshfield Children's Hospital for emergent and specialized care due to the extent of the injury and age of the infant.  Reportedly, the infant died on January 14 of his injuries, an autopsy is scheduled for Tuesday.  On Friday, January 15, Ronnie D. Lofton, 39, was arrested, Police identify him as the infant' father.  Police are referring a preliminary charge of first degree reckless homicide to the Marathon County District Attorney's Office.  Lofton is expected in Marathon County District Court on Tuesday afternoon for a preliminary hearing. Police say if probable cause is found, an initial appearance will be scheduled for a later date.  The investigation is ongoing.
January 15th: Racine shooting was an attempted murder-suicide
The Racine Police Department has confirmed that a Friday morning shooting inside a multifamily home near Downtown Racine ended in the suicide of the shooter.  A woman was hospitalized after reportedly being shot in the chest. She remains hospitalized as of Tuesday, but is now in "stable condition," Sgt. Chad Melby of the Racine Police Department said in an email.
The man accused of shooting her died after turning the gun on himself, according to Melby.  The man has been identified as Donta Cook, 49, of Racine. The Journal Times is not releasing the name of the woman who was shot.  The shooting occurred before 5:30 a.m. Friday in a six-unit building at the southwest corner of College Avenue and Eighth Street.  A man who said he lives in the upstairs unit next to where the shooting was reported told The Journal Times last week he was awoken by gunshots — at least one bullet went through his apartment wall — followed by a woman who began banging on his door while screaming: "Help! Help! I'm going to die!"  The woman was still conscious when paramedics took her away, the neighbor said. The man who was shot in the head did not appear to be alive when he was taken away, according to the neighbor.  Neighbors said the man and the woman lived together and had moved into the building within the past month.
January 16th:  Tommy J. Jones, Age 26- Milwaukee
A 26-year-old man was killed after being stabbed Saturday morning and a 33-year-old female was taken into custody by police.   The incident occurred around 1:40 a.m. on the 2700 block of North 41st Street. The man was pronounced dead at the scene. Police said the incident is domestic violence-related.
January 22nd:  Terrence Vinz, Age 65 and Debra Meagher, Age 62- Rochester, WI

Terrence's Obituary    Debra's Obituary
Sheriff's officials say three people found fatally shot at a residence in Racine County last week were family members.  Investigators believe 30-year-old Matthew Vinz killed his parents, whose bodies were found concealed in the home's garage.  Officials say 65-year-old Terrence Vinz and 62-year-old Debra Meagher had been dead "for a significant amount of time."  Deputies checking on the welfare of the family last Friday said they heard a single gunshot as they arrived at the home in the Village of Rochester, took a tactical position and set up a perimeter.  They found the couple's son dead from a self-inflicted gunshot in the home's basement.
January 24th:  Jolene Medeiros, Age 38 – Nelson, WI
A Buffalo County man could spend the rest of his life inside a prison for allegedly shooting his wife over the weekend.  Jonathan P. Medeiros, 38, of Nelson is charged with one count of 1st degree intentional homicide.  According to the criminal complaint filed in Buffalo County Court:  Medeiros called authorities on Jan. 24 saying he had shot and killed his wife.  When authorities arrived they found Jolene Medeiros with two gunshot wounds to her head.  A deputy said as he was taking Jonathan into custody he once again admitted shooting his wife.  An investigator said Jonathan told him, "I stood up out of bed, grabbed a shotgun, and shot once. She was screaming at me and I shot again."  The investigator said he could smell alcohol on Jonathan.  Medeiros was in court on Tuesday where a $500,000 cash bond was set. He is slated to be back in court for a preliminary hearing on Feb. 5.
January 25th:  murder-suicide leaves 2 men dead in Wisconsin Rapids
On January 25, the Wisconsin Rapids Police Department responded to a call for service at the 2100 block of 3rd Street South.  According to police, they were called to the scene after what's described as an out of town family member doing a welfare check discovered a body.  Police say the deceased male had a "recent and apparent self-inflicted gun shot wound." They then found another decease male within the home.  The State Crime Laboratory-Madison also responded to help process the scene. A forensic autopsy was performed on the body of the second male.  They say as a result of the investigation, it's been determined that the first male discovered intentionally shot the second male, then later shot himself.  Police say the men are brothers, suffered from medical issues, and had been residing at the home together for "some time."  Police say this is an isolated incident and the public is not in danger.  No other information is being released at this time.
January 31st:  Jovanni Frausto, Age 19 – Appleton, WI
Charges have been filed against a 17-year-old sought in connection to a fatal shooting at Fox River Mall.  A criminal complaint obtained by Action 2 News states Dezman Ellis has been charged with 1st Degree Intentional Homicide and 1st Degree Recklessly Endangering Safety.  An arrest warrant has been issued for Ellis, 17. His blue Dodge Avenger was found in Oshkosh Monday, but Ellis remains on the run. Police say Ellis should be considered armed and dangerous. If you see him, do not approach him. Call police. The U.S. Marshals Service is assisting Grand Chute Police in the effort to arrest Ellis.  "Our investigators are actively working with the Marshals Service to follow up on all tips as they are received. We are extremely thankful for the large volume of tips we have already received and ask the public to continue submitting tips and information to us," says Officer Travis Waas.  Police say Ellis shot and killed 19-year-old Jovanni Frausto Sunday in the mall food court during an argument over a girl.  Another man, Colt Lemmers, was shot and injured. He was treated and released from the hospital.
Jovanni's girlfriend told investigators that they went to the mall to eat at about 2:45 p.m. Jovanni and his girlfriend were accompanied by the girl's niece. They were walking around when they came across a group of people they knew–one of them Dezman Ellis.  The girlfriend said Jovanni and Dezman "started to exchange words."  Jovanni's girlfriend told police that their argument was over a girl who was in Dezman's group. About three months ago, Jovanni had been talking to the girl at the center of the dispute. Jovanni's girlfriend said the girl had previously dated Dezman Ellis, but they were broken up when Jovanni was talking with her.  Jovanni's current girlfriend says during the argument at the mall, Dezman threatened Jovanni, saying, "I will shoot this place up, I will kill you." She says Dezman Ellis started flashing a gun. She left the area with her niece and Jovanni took off running.  "Jovanni ran straight and Dezman was chasing him with the gun," says Jovanni's girlfriend. She said Jovanni was not armed.  A witness in Dezman Ellis' group said Dezman had a black handgun. She heard two shots. She saw Jovanni Frausto hold his chest, fall into a table, and then to the ground.
Dezman's friend said their group ran out of the mall and drove away. She told police she dropped Dezman off at his apartment in the 700 block of Woodland Av in Oshkosh.  Another member of the group confirmed to police that Dezman had a gun and shot it. She stated that she believed Ellis still had the gun.  Survivor Colt Lemmers told police that he had spotted a friend near the Panda Express in the mall when he heard someone say "drop the gun." He turned around and heard a shot. After the first shot, he felt something hit his hip. He described the pain as "feeling like a bee sting." That's when he realized he had been shot.  Police found two 9mm spent shell casings in the food court.  A witness later told police that he saw Ellis and his brother loading a blue Dodge Avenger with clothing and other items at the apartment on Woodland Av. That was right before police arrived at the apartment.  Jovanni Frausto suffered a wound to his chest and an exit wound through the back. He wat taken to a hospital where he was pronounced dead. An autopsy determined the caust of death to be two gunshot wounds.  Police later spoke with Dezman Ellis' brother, who stated that Dezman told him that he shot someone at the mall.  Jovanni's girlfriend said they had not planned to meet with Dezman in the mall that day and it was a random occurance.  Jovanni Frausto's mother, Tanya, has set up a GoFundMe account, and is asking for donations to cover funeral expenses.  On the page, she wrote "I never expected to have to bury my 19-year-old son to gun violence," and "This is a difficult time for our family and we ask for your prayers."  CLICK HERE to donate to the GoFundMe.  Jovanni's uncle, JJ, says his nephew was a good kid. "His grandmother loved him. She has passed away in 2016, so I'm pretty sure grandma will take care of him," says JJ Aponte.
February 6th: Robert L. Price, Age 16 – Milwaukee, WI
A 16-year-old boy was shot and killed early Saturday near North 28th and West Wells streets, police said.  Officers responded to the scene around 1:20 a.m. Saturday.  A 29-year-old woman was also shot.  She is expected to be OK.  Police said the shooting was the result of an argument.
February 14th: Kally Elliott, Age 41 – Janesville, WI
The family of a woman killed in a homicide at a Wisconsin Dells hotel has identified her as Kally Elliott of Janesville.  Jonathann Elliott confirmed to 27 News his mother was the woman found dead at The Vue Hotel in Wisconsin Dells on Feb. 14.  Jeremy Mondy, 34, has been arrested and charged with first-degree intentional homicide in Elliott's death. He's in the Columbia County Jail on $5 million bail.  Mondy also faces charges of domestic abuse in Rock County. Authorities say Elliott was also the victim in that case. He was out on a signature bond when the homicide occurred.  Jonathann Elliott says his mother's killing was an escalation of her being victimized nearly her entire adult life. "Definitely a victim of domestic violence," Elliott says of his mother. "There's no other way around it."
"We went through (domestic violence), for the majority of life to be honest," Elliott says. "We went through it a long time, several different people," he says.
"We want to make domestic violence more known than what it is because it's more serious than what everybody thinks it is," Elliott says. "It's gotten so bad, especially since the (pandemic)," he says.  Court records show Mondy allegedly strangled Kally Elliott and threatened to kill her days before the Valentine's Day fatal violence. Records state Mondy claimed at first to have shot Elliott at the hotel during a struggle for a gun, but then revised his account to say he shot the woman in self-defense.  Jonathann Elliott declines to comment on his mother's relationship with Mondy, citing Mondy's on-going prosecution.
Elliott's fiance, Alexus Salvner says Kally Elliott was like a mother to her and a grandmother to her toddler children. Salvner says Kally Elliott deserves to be remembered as more than a victim.  "She was strong, she was a fighter, she was a mother, a sister," Salvner says. "She was so giving."  Salvner and Jonathann Elliott say they will continue to raise awareness of domestic violence and honor Kally Elliott in July on their wedding day.  "We're getting married on her birthday," Salvner says. "And we're going to incorporate the domestic violence purple into our wedding."  "We're not going to let her memory die," Salvner says.  Family members say a GoFundMe page has been established in connection with Kally Elliott's death to help them with costs for her cremation.
February 14th:  Unnamed Baby, 39 days old – Racine, WI
RACINE — A Racine teenager has been charged with the murder of his own 1-month-old child.  Shavale Powell, 17, of the 2000 block of 16th Street, was charged Monday with first-degree reckless homicide and two counts of physical abuse of a child after one of his children was found dead and another child was found with a bruise on his left eye.  According to a criminal complaint:  On Feb. 14, police and rescue responded to the 1800 block of LaSalle Street, Racine, to a 911 call for a pulseless, non-breathing infant.  Upon arrival, the child, just 39 days old, was found deceased and cold. The parents of the child, born Jan. 6, were present and identified as Powell and Javian Clark, 18.  Clark is listed as a co-defendant in Powell's case. Racine County District Attorney Tricia Hanson said Monday afternoon that Clark will be charged Tuesday.   Both parents reported that they had been the only caregivers the last week the child was alive.  An examination by the Milwaukee County Medical Examiner's Office determined that the child died from abusive head trauma and ruled the death a homicide. The preliminary injuries described by the medical examiner were as follows:
Blunt force injuries to the baby's head: contusions of face, fracture of left parietal bone, subdural hemorrhage, optic nerve hemorrhages, bilateral.
Blunt force injuries to the baby's chest: contusions of the chest and back, multiple rib fractures.
Blunt force injuries to the baby's extremities: abrasions of right hand, contusions of the left lower ext
An arrest in the death was made Feb. 16, the Racine Police Department reported.  The issue with the older child was later examined at the Racine County Children's Advocacy Center, and the injury was ruled concerning for abuse. Investigators found that the 1-year-old had suffered an injury to his right eye on Feb. 4, 2020, when he was 5 months old and immobile. The child was seen at the emergency room that same day, and diagnosed with severe subconjunctival hemorrhage concerning blunt force trauma to the child's right eye and face.
Also present at that time was a small scratch that was out of proportion to the size of the hemorrhage. Neither parent could explain any kind of trauma that would have resulted in such a serious injury to such a small child.
A preliminary hearing for Powell is scheduled for March 4 at 8:45 a.m., online court records show. His cash bond was set at $50,000 Monda
Online court records also show Powell is facing an October charge for disorderly conduct-domestic abuse.
February 14th:  Gia Buccieri Martin, 39- Kenosha, WI
The boyfriend of a woman found dead at her home after being reported missing weeks before is expected to be charged with her death.  Gia Buccieri Martin, 39, was reported missing on Jan. 26, with family saying she had last been seen the previous day. She was found dead on Feb. 14 at the home she shared with her boyfriend on the 5100 block of 14th Avenue.  The boyfriend, Roderick Lamar Smith, 39, has been in custody at the Kenosha County Jail on a probation hold since the day Martin was found, as police continued to investigate the cause of her death.  Smith is expected to be formally charged Wednesday.
February 19th:  Daemyn Lucas, 6 weeks- Menomonie, WI
One count of first degree reckless homicide is filed today against a Menomonie man tied to the death of his six-week-old son.Cash bond is set at $30,000 for 28-year-old Jonathon Lucas.  He's scheduled to make an initial appearance in Dunn County Court Friday.  A criminal complaint says law enforcement officers arrived at Lucas's apartment on Feb. 19, and heard yelling coming from inside.  When they entered, they noticed the baby, later identified as Daemyn Lucas, lying motionless on the kitchen counter.  An officer started CPR, but Daemyn later died at a local hospital.  A preliminary breath test taken that night showed Jonathan Lucas to have a blood alcohol level above the legal limit.  He said couldn't remember what happened to Daemyn.  Lucas told investigators that he would take full responsibility for what happened to his son even through he believed he blacked out and could not remember what happened.  An autopsy found traumatic head injuries due to physical assault as the case of death. The manner was listed as homicide.  An assistant medical examiner told law enforcement that the injuries could not have been caused by an accident.
March 1st: Keywon  J. Clark, Age 24, Milwaukee, WI
A 24-year-old man was killed and a 19-year-old man was injured just before noon Monday when a suspect fired into a group of people arguing on the 3900 block of North 23rd Street, police said.  The 19-year-old was transported to a hospital in stable condition.  A 38-year-old Milwaukee man is charged with first-degree intentional homicide in connection to a shooting on March 1.  Prosecutors say Curtis Hill shot and killed a 24-year-old man and seriously injured a 19-year-old near 23rd and Melvina.  A criminal complaint states Hill approached an outdoor altercation involving the 24-year-old and other people. Multiple witnesses said Hill shot the 24-year-old multiple times; one witness said the shots were fired at point-blank range.  The 19-year-old told police he heard gunshots and turned to see Hill standing over the 24-year-old. He said he then ran, and Hill began shooting toward him and chasing him. He said Hill fired until the gun "clicked because it either ran out of ammo or malfunctioned."  An autopsy found the 24-year-old was shot once in the chest and once in the back, killing him.
March 4th: Bianca T. Bates, Age 31, Milwaukee, WI
On March 4, a 31-year-old woman was shot just before 8 p.m. in the 3000 block of North 38th Street.  Go Fund Me.
March 8th: Charniese Brown, Age 26, Kenosha WI
Ranon Brownlee was booked early Tuesday morning with recommended charges of first-degree intentional homicide in the death of Charniese Brown, 26, of Kenosha. Police said Brownlee would be referred on domestic violence charges, as well.  Kenosha Police officers were called to the home in the 1700 block of 73rd Street at 5:31 p.m. Monday by a woman who called 911 screaming that someone was trying to kill her.  Friends on social media said Brown was the mother of several young children. Friends described Brown as a devoted parent, a "rock-star mom."
Outside the home Tuesday morning, police tape surrounded the yard, which was scattered with children's toys. Neighbors said Brownlee and Brown had lived together in the home for about a year, with a blended family of five or six children.  A couple who lives next door, who did not want to be identified, said they were at home with their front door and windows open and had heard nothing until police vehicles sped up to the home.  "The kids were out playing in the yard when it happened, the police yelled at them to get on the porch, and they ran across the street and were watching from the porch there," one of the neighbors said.
The couple said they saw Brown lying on the ground in the narrow side yard between their houses.  "They were working hard to save her life," the neighbor said.  He described Brown as being covered with blood, saying it appeared that she had been stabbed.  "It just really breaks my heart that someone so young is gone," the neighbor said. "… I can still see in my mind her body lying there."
Although they said they did not know them well, the neighbors said the couple had been quiet and that Brown was friendly.  Kris Coleman of Kenosha said he was on his way home from work when he saw police cars quickly approaching in his direction. Coleman said the squad cars "flew past me" while he was on his motorcycle. He realized the area they were headed to wasn't far from his house about three blocks away.  As Coleman arrived at the scene just east of Lincoln Park, at least a dozen squad cars were there, along with community services officer vehicles and two ambulances, he said. Coleman said he learned from the couple's next-door neighbor that police had Brownlee surrounded and had held him at gunpoint. Neighbors said Brown had been stabbed in front of her children.
According to Coleman, other children who had been outside playing in the neighborhood apparently saw the grisly incident unfold, too, and he watched as officers talked with them.  "It's pretty sad that neighborhood kids had to witness that," Coleman said.  Coleman said police had handcuffed Brownlee, who was covered in blood, and that he sat in a chair outside a home before personnel placed him on a stretcher and then into one of the ambulances. He was taken away about 25 minutes later.  Coleman also said officers stood guard between two homes where Brown's body, covered by a tarp, remained. The medical examiner arrived several hours later. Coleman said his "prayers and thoughts" were with the family.  "I hope the community can show their support for them and to come together for this," he said.
Brownlee had been charged in October 2019 with domestic violence-related battery and disorderly conduct, the bond conditions indicating that Brown was the victim in that case. The charges were eventually dismissed.  Multiple squad cars surrounded the neighborhood Monday night while police cordoned it off from spectators who stood outside, some with cameras. Some officers congregated at a home that was brightly lit on the outside while others stood at the scene, tape cautioning people not to cross.  According to a police press release, officers were on scene within two minutes of receiving the 5:31 p.m. call. The release also stated that there is no threat to the community regarding the incident.  The death is the fifth homicide in Kenosha this year, a number more typical in a full year in Kenosha County. Four of those five deaths appear to be related to domestic violence.
March 13th:  DOJ investigating after body found in Crawfish River in Wisconsin
The Wisconsin Department of Justice is investigating after a man's body was found in the Crawfish River Saturday morning.   On Friday morning, the Columbus Police Department responded to a domestic incident at a home in Columbus, Wisconsin, DOJ said. Arriving officers saw a man running from the scene, but lost sight of him.   Columbus police, along with the Columbia and Dodge County Sheriff's Offices, conducted a search of the area Friday into the following morning, but did not find the man.  Authorities believe the man later found in the river was the same man who ran away from the home. His identity has not yet been released.   The investigation is being led by DOJ's Division of Criminal Investigation.
March 13th: Tina Decorah, Age 42, and Duane Mallory, Age 33 – Lyndon, WI
Court documents from a double homicide in the town of Lyndon show authorities believe the victims were murdered using a baseball bat following an argument.  Deputies from the Juneau County Sheriff's Office found the bodies of Tina Decorah, 42, and Duane Mallory, 33, at a residence in the town of Lyndon during a welfare check March 15. Felix Rivera-Medina, 24, and Tina Decorah's daughter, Makaela Decorah, 23, were taken into custody during the ensuing investigation.  Rivera-Medina is charged with two counts of first degree intentional homicide as a party to a crime, two counts of felony theft from a corpse as a party to a crime, and felony harboring or aiding a felon. Decorah is charged with two counts of felony theft from a corpse as a party to a crime, felony harboring or aiding a felon and felony bail jumping.
According to a criminal complaint filed in the cases for both Rivera-Medina and Decorah, authorities believe Rivera-Medina murdered both individuals using a baseball bat later found at the residence. Rivera-Medina then joined Decorah at an acquaintance's house before driving to Baraboo, where they paid for a hotel room using money taken from one of the victims' purse.
The complaint shows authorities believe Decorah left the residence where she, Rivera-Medina, and the victims lived following an argument shortly after midnight March 15 and went to a nearby home. While at the home, a witness overheard Decorah speaking to Rivera-Medina asking "Wait, what happened? What did you do?" Decorah then told the witness Rivera-Medina had "beat them up."  Following the call, Decorah and the witness went to the residence, where Decorah picked up her children before returning to the witness' house where Rivera-Medina later joined them. Rivera-Medina said he had taken one of the victim's items from the home, including a purse, which Decorah went through for cash.  Rivera-Medina stated he "got (one of the victims) pretty good" and dislocated his jaw, including that he "knocked his teeth out" and cracked the victim's skull using a baseball bat. A later search of the residence where the victims' lived found a baseball bat with red stains in the bedroom of Rivera-Medina and Decorah.  Decorah, Rivera-Medina and her children were given a ride to Baraboo by the witness, who gave them $20 for a hotel room. The witness said the rest of the money for the hotel room came from the cash Decorah took from the victim's purse.  Authorities arrested the couple in Eau Claire on March 17. Messages from Decorah to the father of her children state Decorah said her mother "lost her mind" and that Decorah "beat the (expletive) outta her." Decorah also texted that "Felix hit (a victim) with a bat. (Expletive) got crazy. I gotta get tf outta here too."  Rivera-Medina is set for an initial appearance April 13 at the Juneau County Justice Center. Judge Stacy Smith set a $1 million bond for Rivera-Medina at a hearing March 29, following requests from the state of a $2 million bond and from the defense of a signature bond.  Decorah is set for an initial appearance April 14 at the Juneau County Justice Center. Judge Smith set a $240,000 bond for Decorah at a hearing March 29.
March 21st: Man shoots himself during standoff with deputies in Fond du Lac County
A man shot himself Sunday during a standoff with deputies in Fond du Lac County.  Deputies responded around 12:15 a.m. to a reported argument between a man and a woman that involved a firearm at a home in Taycheedah, according to the Fond du Lac County Sheriff's Office.  After interviewing the woman, deputies stopped a vehicle that left the home at County WH and County W. Officials said deputies found the man hiding in the trunk of the vehicle, and he pulled out a gun.  Officials said deputies surrounded the vehicle and tried to negotiate with the man for several minutes before he shot himself. Deputies started medical treatment and the man was taken to a regional trauma center where he died.  Officials said no deputies were injured and no deputies fired their guns. The Sheboygan County Sheriff's Office is conducting an investigation of the shooting.
March 21st, Mai Rue (Lily) Vang, Age 30, Wausau, WI
The family of Mai Rue Vang, known as Lily Vang, is mourning her loss Monday.  Lily's sister, Feanna Vang, says Lily was a devoted yet goofy mother who cooked amazing meals that brought together her 17 siblings and their families.  "To all of us, she had the biggest heart. She always gave more than what she received and what she had," Vang said. "Her dedication as a mother, and as a sister for all of us, and a daughter, can definitely never be replaced for her children or us."  Feanna Vang says Lily loved her kids and wanted more than anything to have a baby girl, and her wish came true 7 months ago. Now Vang says it's up to her family to take care of her daughter. Vang says this is a loss of someone who was always there when anyone needed help.  "She, for friends, family, everyone who knew her, I would say she was everyone's go-to person. She was definitely someone who always lent her shoulder for you to cry on, she was a very modest person and a wonderful mother to her children," Vang said.  Lily Vang worked as a nail artist and loved creating nail art. Her family had recently encouraged her to sell her own nail designs.  The Vang family needs help paying funeral expenses for Lily. They've started a GoFundMe page that raised almost $9,000 by Monday evening.  The Hmong community as a whole is also mourning Vang.  "The fact that this happened here, it deeply affects many members of the community, especially since the Hmong community is a very tight-knit community, it sends a strong ripple effect throughout the entire community," said Yee Leng Xiong, executive director of the Hmong American Center.
Vang, 30, was shot and killed on the 1300 Block of N. 9th Ave. Sunday morning. Umberto N. Lo was arrested at the scene and appeared in court Monday. Vang's family says Lo was her boyfriend, and Wausau Police say Lo is known to the department from previous incidents.  Police say how Lo was able to have a gun and walk free with felony charges pending is something they're trying to answer in their ongoing homicide investigation. Deputy Chief Matthew Barnes was not able to share a motive, but called the situation tragic.  "This is a horrible situation for this community, and all of our officers and our staff that are working on this case are keeping the victim's family in our prayers," Barnes said.  If you or someone you know is a victim of domestic violence, Deputy Chief Barnes says, please seek help. You can call 800-799-SAFE or get help from trained Wausau Police Department staff or the Women's Community.  "This is a wonderful community we live in, because we have a tremendous amount of resources and people standing at the ready to help them. I would beg anyone in that situation to accept that help," Barnes said.
March 31st, Dane C. Mathis, Age 30, Milwaukee, WI
A 35-year-old male was killed on Milwaukee's north side early Wednesday, according to the Milwaukee County Medical Examiner's Office.  Police initially reported a nonfatal shooting on the 3100 block of N. 24th Place, in the Franklin Heights neighborhood, at 1:20 a.m. that left the victim with serious injuries. The victim was hospitalized and succumbed to his injuries shortly before 7:30 a.m., according to the medical examiner's office.   Police say a 29-year-old Milwaukee woman was arrested in connection to this incident.
April 1st: Cary Lynne Elkin, Age 42, Stone Lake, WI
A Stone Lake area man who was arrested on a tentative charge of hiding a corpse in a woman's gunshot death appeared for a bond review hearing in Sawyer County Court Wednesday, April 7.  The investigation continues into the woman's death, which was a homicide, according to Sawyer County Sheriff Doug Mrotek. To date, authorities have not filed criminal charges in the incident.  Timothy Patrick Elkin, 43, was arrested Friday, April 2, by Sawyer County sheriff's officers after the body of 42-year-old Cary Lynne Elkin, Timothy Elkin's wife, was found in her home on Hungry Lake Lane in the town of Sand Lake. The cause of death was gunshot wounds, according to the Sawyer County coroner.
Timothy Elkin subsequently appeared in court for a probable cause hearing, where Judge John Yackel ordered him held on a $25,000 cash bond.  According to the probable cause document, at 12:29 a.m. April 2, a man called the Sawyer County dispatch center. He stated he was at the house of his friend, Timothy Elkin, at 7 p.m. April 1 and walked into a bedroom which did not have working lights. There, he said, he saw his friend's wife deceased without a head.  Sheriff's deputies responded to the area and a deputy met with the caller. The caller said he was contacted by Timothy Elkin, who said he had not spoken with Cary Elkin in a few days and was concerned.
The caller told the deputy that that after he and Timothy located Cary deceased on the bedroom floor, they both left and agreed to call the police. He said he could not sleep and was "freaked out," and decided to call the police because he knew that Timothy didn't.  Deputies then went to the residence and announced "sheriff's department," but received no response inside. They entered, where a deputy observed blood on the bathroom floor and observed a female's foot, which was dark and had no movement. They observed blood stains on the floor and bed, and skull fragments on the floor. Deputies cleared the last room and left the residence.  Deputies saw a note on the refrigerator which stated "I pistol whipped that bitch, worth it", and "I ain't payin' for it."  Deputies started a crime scene log. The friend of Timothy Elkin said Timothy was texting him and was on his way to Hayward to report the incident. A city police officer and LCO tribal police officer located Timothy exiting Kwik Trip at 1:30 a.m. initiated a traffic stop, detained Timothy and took him to the jail.  When contacted by a detective, Timothy Elkin stated he did locate Cary Elkin earlier in the day, however did not report the incident. Phone recording indicated that Timothy told Brandon he "needed a few hours to clean things up," He did not report the corpse located at the Hungry Lake Lane house.
April 2nd: Deon F. Doss, Age 29, Milwaukee, WI
Loved ones of Deon Doss held a vigil to remember the 29-year-old on Saturday, April 10.  Family and friends said that Doss was a great father and helped anyone down on their luck, but this time it cost him his own life.  "It's hard because he didn't deserve this," Doss's mother Katie Doss said.  White roses and a yellow satin ribbon were used to remember Doss Saturday afternoon near 24th and Keefe.  "It's hurting a lot off us and it's going to take awhile to heal, but I thank god for the 29 years I had with him," Doss said.  Milwaukee police found Doss stabbed to death inside a car near 33rd and Auer on Monday, April 5. Police arrested and charged Deondre Alston in connection to his murder with first degree intentional homicide, use of a dangerous weapon, and hiding a corpse.
Doss's mom says Alston was an old school friend of her son.  "I never though that Deondre would do that," she said.  She says her son rented a room to Alston. She was on the phone when the two started to argue and fight. She tried calling back, but the phone went to voicemail. The next day Doss didn't show up to a family birthday party.  "Police found the car with him in the truck," Doss's mom said.  Doss leaves behind a three-year-old son, Devin Doss.  "I feel this heartache that's probably not going away for awhile because my son is not going to have his dad with him," Monica Rodriguez, who shares the same son, said.   Police arrested and charged Deondre Alston in connection to Deon Doss's murder with first degree intentional homicide.
April 9th,  2021: Jesse O'Brien Age 36, Marshall, WI
A Rusk County man is being held on a recommended charge of homicide by intoxicated use of a firearm for allegedly shooting and killing his son on Friday evening.  Police were called to a fight on Highway G in the town of Marshall on April 9 at 6:29 p.m. That is between Conrath and Sheldon, southeast of Ladysmith.  When deputies arrived they found Jesse O'Brien, 36, of Sheldon dead from a gunshot wound.  His dad, Scott O'Brien, 59, was arrested.  No other details have been released by the Rusk County Sheriff's Office.
April 11th,  2021: Suicide, Milwaukee, WI
On April 11, 2021, Dallas Adams departed this life at the tender age of 22. After a long and tumultuous battle with grief and mental health issues that made every day a constant battle, Dallas could fight no longer and ended his life in the presence of law enforcement, his mother, and his sister. He leaves behind a host of family and friends who cherished him and a 1 year old son, Kaden, who will only know him through legacy.
While nothing will bring Dallas back, the family is seeking financial support to assist with his burial and to create a trust for his son for years to come. The family also would like to utilize a portion of the funding to support and advocate for young men and women who are suffering from mental health issues. Please consider giving and sharing so that we may put our beloved son, brother, and father to rest and carry on the legacy and work that he is not here to do. Thank you and may God bless you.  Go Fund Me
April 14th,  2021: Aisha D. Dunn, Milwaukee, WI
One person is dead and two others are injured after  shootings were reported on Milwaukee's north side.  Three people were reported shot, including one fatally, around 3:40 p.m. on the 2700 block of North 20th Street, near the Park West and Lindsay Heights neighborhoods, police said.  The Milwaukee County Medical Examiner's Office identified the victim who was killed as Aisha D. Dunn, 43, of Milwaukee. A 17-year-old boy and and a 68-year-old woman also suffered injuries that were not life-threatening, police said.
April 15th,  2021: Vydale Thompson-Moody, Age 28, Milwaukee, WI
A suspect is in custody after a 28-year-old man was strangled on Milwaukee's west side Thursday.  The incident occurred shortly before 11:30 a.m. on the 2800 block of West Wells Street, in the Concordia neighborhood, police said. The victim was pronounced dead at the scene, and a 31-year-old man was arrested.  The victim was identified by the Milwaukee County Medical Examiner's Office as Vydale Thompson-Moody, of Milwaukee.  A GoFundMe page has been established by Thompson-Moody's family to help cover burial expenses.
April 17th,  2021: Unnamed Son, Age 16, Watertown, WI
A retired Watertown Police officer died by suicide after causing the death of his son, according to a press release from the Watertown Police Department.  Watertown Police Detective Ben Olsen sent out a press release saying the Watertown Police Department had been called to check on the welfare of Douglas Teuteberg Friday. Watertown officers attempted to contact Teuteberg by phone and in person. Investigators pinged cell phones and attempted to contact at those locations as well. After their leads were exhausted, Watertown Police entered Teuteberg's home, as community caregivers, where they found Teuteberg and his 16-year-old son dead.
Teuteberg retired from Watertown Police after 19 years in 2017. Due to his former employment, Watertown Police contacted the Dodge County Sheriff's Office and the Wisconsin Department of Justice Crime Scene Unit to investigate.  Dodge County Sheriff's Office sent out a press release on Saturday stating that the investigation was underway in the death of the 52-year-old man and 16-year-old boy which had occurred at 909 Country Lane in Watertown. The sheriff's office was called in at 3:42 a.m. Saturday to assist in the investigation.  The sheriff's office said the evidence at the scene indicates the incident was a homicide and suicide with the 52-year-old believed to be the actor. No other individuals are believed to be involved.  The name of the teen is not being released. The Dodge County Medical Examiner's Officer assisted at the scene.
April 23rd,  2021: Keandre Scott, Age 20, Starcey Chatman, Age 36   Milwaukee, WI
Starcey Chatman
A Milwaukee man has been charged in two separate homicides that happened Friday, April 23.  Prosecutors allege that Mharquelle Dixon, 19, shot and killed two people. The shootings happened less than a half-mile apart from one another.  Dixon is charged with two counts of first-degree reckless homicide, one count of reckless injury, one count of possession of a firearm by a felon and one count of bail jumping.  Police were called to the first scene, near 24th and Ash, around 4:45 p.m. on Friday afternoon. Officers found the victim on the ground outside a car, suffering gunshot wounds to the head and body. He did not survive.  Detectives identified a bullet hole in the car's driver's side window, consistent with having been fired from inside the car. The car was on a jack with the hood up, being worked on at the time of the shooting, according to police.  A witness who was working on the car told police Dixon and the victim were talking inside the car when he heard shots. He then saw a woman run out of the car, and Dixon run after the woman. He said he heard more gunshots, and assumed Dixon was shooting at the woman.  Police spoke to that woman at the hospital where she was being treated for gunshot wounds. She said Dixon was in the backseat talking with the victim. The conversation didn't seem "aggressive or heated" — then she suddenly heard gunshots.
Police were called to the second scene, near 24th and Clarke, around 11:20 p.m. on Friday night. Officers found the victim dead in the driver's seat of his car with gunshot wounds to the head and chest.  A witness said he noticed the car parked in the same spot for hours that afternoon. According to the complaint, he saw what he thought was a man sleeping inside, but did not want to be nosy, until around 11 p.m. when he heard a phone ringing in the car and the man didn't wake. He then went to the car, believed the driver was dead, and called 911.  About a minute after the 24th and Ash homicide, police were called to a grocery store roughly a block south of the scene for a report of a person with a gun. There, officers located Dixon who put his hands up and was taken into custody without incident.  While being arrested, the complaint states, Dixon said he was involved in a nearby shootout "over $2,800 and family stuff." The complaint states Dixon told store workers that his family was trying to kill him, and he admitted to putting two guns on the floor.  Dixon later provided a statement, admitting to both killings. He said the victim of the 24th and Clarke homicide was his uncle. He also stated he believed his family was plotting to kill him.The two were in a car when the victim reached under his seat. Dixon said he then fired at the victim; he did not want to hurt him, but "felt he had to." He then ran from the area.  Dixon said he saw a vehicle that he thought was chasing him, possibly a cousin, whom he believed was armed. As he ran, the complaint states, he came upon the car where the 24th and Ash shooting unfolded. He said a man told him to get in the car, and he sat behind a woman who was in the front seat.  While in the car, Dixon said the man talked to him for a few minutes before allegedly pointing a firearm. Dixon said he then shot the victim, disarmed him and chased after the woman; he thought about killing her, the complaint states.  Court documents show Dixon had two prior felony convictions and an open case for a firearm offense.
April 23rd,  2021: Renee Hindes Caird, Age 52  Weston, WI
A man accused of stabbing a woman at least 38 times resulting in her death is facing a homicide charge, among other counts in Marathon County Circuit Court.  A criminal complaint has been filed against 43-year-old David Morris in the April 23 death of 52-year-old Renee Caird.  The Weston man was shot and wounded by police who responded to Caird's call for help, the state Department of Justice said.  Morris is charged with first-degree intentional homicide with a domestic abuse repeater modifier, false imprisonment, obstructing an officer and two counts of recklessly endangering safety with use of a dangerous weapon.
April 26th,  2021: Kai Ivy, Age 2 months, Milwaukee, WI
A 20-year-old Milwaukee man has been charged with first-degree reckless homicide after telling police he shook his 2-month-old son more than a day before he died of blunt force trauma to the head.  If convicted, Jakob Ivy faces up to 60 years in prison, according to court documents. He is in the Milwaukee County Jail with cash bail set at $5,000.  His son has been identified as Kai Ivy by the Milwaukee County Medical Examiner's Office. He died in the early morning of April 26 after his father reported he was unresponsive and not breathing, police said. First responders were able to locate a pulse, but he died after being hospitalized.
According to the criminal complaint:  First responders were called to the 300 block of North 29th Street, in the west side neighborhood of Merrill Park, about 2:30 a.m.  Ivy told police that he woke up at 2 a.m. and found his son awake. After feeding and trying to burp him, Ivy said he noticed his son's breathing was shallow and his heartbeat sounded slowed.  Ivy initially denied to police he had shaken his son but later admitted to shaking him front to back and side to side at some point on April 24. The next day, his son appeared to be sleepy and lethargic, he said.
May 3rd,  2021: Kenosha   Monday night domestic incident ends in suicide
A domestic disturbance ended in a suicide Monday night.  According to police radio reports, a woman called 911 at 7:45 p.m. Monday saying that a man she had a 72-hour no-contact order against had come to her apartment in the 1300 block of 30th Avenue and had a gun.  When police arrived they found the man slumped over in a van in the parking lot. The "incident concluded with the offender taking their own life," Lt. Joe Nosalik said on Twitter. There were no other injuries. Nosalik said police would not be releasing additional information on the incident.
May 5th,  2021: Jan Hyatt, Age 37, Sun Prairie, WI
Couple identified in Sun Prairie's double death investigation:  The medical examiner's office have identified the Sun Prairie residents found dead on South Legacy Way on May 5. Jan V. Hyatt, age 37, and Chad A. Rury, age 35, died of gunshot wounds, according to Dane County Medical Examiner preliminary autopsy reports released on Wednesday, May 12.
Hyatt and Rury were pronounced dead at the scene around 5:45 p.m. last Wednesday, May 5. Police were called to the home on the 300 block of South Legacy Way for a welfare check.  Sun Prairie Police Sgt. Ryan Cox said last week that the evidence indicated that Rury's gunshot wounds were self-inflicted.  The deaths remains under investigation by the Sun Prairie Police Department with additional testing by the Dane County Medical Examiner's Office.
May 10th,  2021: Susan Pickett, Age 54, Avoca, WI
A 21-year-old man has been identified as the suspect in the killing of his mother at an Iowa Co. home earlier this week.  On Wednesday, the Wisconsin Dept. of Justice stated Sean Pickett was arrested in connection with the homicide and had his initial court appearance on Wednesday.  According to the state agency, which is leading the investigation, Pickett is accused of killing 54-year-old Susan Pickett, whose body was discovered around 3:30 p.m. Monday at a home in the 200 block of William St., in Avoca.  The DOJ previously indicated law enforcement responded to the residence around 3 p.m. after Sean Pickett called to report his mother's death. He was still at the location when authorities arrived.  Village of Avoca Police Dept. officers responded to the residence and found Susan Pickett and a dog, who were both dead inside of the residence. Police had observed blood smears on Sean Pickett's pants, shirt and shoes. Officers took Sean Pickett into custody and he was interviewed by the DOJ's Division of Criminal Investigation.  Pickett allegedly stated during the interview that he had killed his mother using a knife to stab her neck and then a metal pole to strike her body and head. He also stated that he allegedly killed his dog.  The district attorney did not state what Sean Pickett's motive was in the alleged homicide.
The district attorney explained that based on the statement's made and evidence observed, Sean Pickett was arrested on the alleged charge of first degree intentional homicide, which if convicted, is punishable by life in prison. The attorney continued, saying Sean Pickett was also charged with a felony of alleged intentional mistreatment of an animal resulting in death, which is punishable of a fine up to $10,000 or a 3-and-a-half year prison sentence, or both, if convicted.  The court ordered a cash bond of up to $100,000 for Sean Pickett. If he posts bond, he will also be subject to GPS monitoring and is prohibited from having or using a weapon. He will also not be allowed to leave the state.  His next appearance in court is scheduled for 3 p.m. May 24.  The Dept. of Justice described her death as an isolated incident.  The investigation into Susan Pickett's death is still ongoing. The Dept. of Justice explained when its Division of Criminal Investigation, which is working with the Iowa Co. Sheriff's Office and Village of Avoca Police Dept., wraps up the investigation, it will submit its findings to the Iowa Co. District Attorney's Office.
May 18th,  2021: , Elijah Johnson Age 22, Milwaukee, WI
Milwaukee woman has been charged with the shooting death of a 22-year-old man near 29th and Wisconsin on Tuesday, May 18.  Tequila Collins, 21, has been charged with two counts:
First-degree reckless homicide, domestic abuse, use of a dangerous weapon

Second-degree recklessly endangering safety, use of a dangerous weapon
Surveillance footage from inside the apartment building shows Collins and the victim were moving items from the building around 12:20 p.m. Tuesday. Footage shows Collins allegedly shoot at the victim from the top of a stairwell, striking him in the back at the bottom of the stairs. The victim was aided by citizens outside the building as Collins ran from the scene, according to a complaint. The victim was pronounced dead at the hospital less than an hour later. An autopsy showed he died from a single gunshot wound to the lower back.  A police report stated the incident stemmed from an argument. A 9mm shell casing was found at the scene.  Collins was later identified by the apartment's manager. When approached by police, Collins admitted to the shooting, originally saying the gun was supposed to "be safe" and "went off," a complaint read. She then went on to say she shot at him to "scare him while aiming at the glass window next to him." Text messages revealed Collins was involved in another shooting near 18th and Vienna the day before on Monday, May 17.   Police had responded to the area for a shot spotter call and found a 9mm shell casing, but were unable to find a victim. Witnesses placed Collins at the scene, though she initially denied being involved and said she just shot her gun in the air, a complaint said. Count two is reflective of this incident.  If convicted, Collins could face up to 75 years in prison. No date has been set for a future court appearance.
May 19th,  2021: Unnamed Grafton Woman, Age 29, Menomonee Falls, WI
A Washington County corrections officer on May 19 shot and killed a 29-year-old Grafton woman before taking his own life in his Menomonee Falls apartment, according to the Menomonee Falls Police.Phillip Marker, 33, was a corrections officer with the Washington County Sheriff's Office, according to a news release from the sheriff's office.  Marker was appointed to that position on April 24, 2017, and was assigned to the night shift. Before he was employed through the county, he served in the Marine Corps from 2007 to 2012.  According to Menomonee Falls police, a concerned family member called police around 11:20 a.m. about the welfare of a person in an apartment at 17300 block of Appleton Avenue.  The police department entered the apartment and found Marker and a woman who had both died of apparent gunshot wounds. An investigation later confirmed that finding and indicated Marker took his own life. He knew the female victim, police said.
According to the Washington County Sheriff's Office news release, corrections officers do not use firearms as part of their employment.   "We ask that you join us in giving your thoughts and prayers to all of those affected by this tragedy," the release said. "This senseless and brutal act of violence ended two lives far too early and brings sorrow to us all." The shooting marks the second domestic violence death in Menomonee Falls in the past several months. In September, a 20-year old Menomonee Falls woman, Symone Hughes, was stabbed to death by her ex-boyfriend.
If you need help
Sojourner Family Peace Center, Wisconsin's largest provider of domestic violence prevention and intervention services, runs a 24-hour hotline for domestic abuse survivors at 414-933-2722. Sojourner's website is www.familypeacecenter.org. All calls are confidential; services are free.  Milwaukee County residents can also visit www.weareheremke.org for more resources that are more specific to various cultures or situations.  The Women's Center, 505 N. East Ave., Waukesha has a 24/7 hotline at 262-542-3828. Its website is www.twcwaukesha.org.  Ozaukee County residents experiencing domestic abuse can reach out to Advocates of Ozaukee for help. This organization runs two 24-hour hotlines at 262-284-6902 and 877-375-4034, and can also be reached at www.advocatesofozaukee.com.
May 20th,  2021: Carlos A. Cruz Portillo, Age 27, Janesville, WI
The Rock County Medical Examiner's Department has released the names of the men involved in what police have called a murder-suicide in Janesville on May 20.  The men are Carlos A. Cruz Portillo, 27, of Janesville, and Phong Thao, 43, of Madison.  Janesville police have said they believe the shooter in the incident was a 43-year-old Madison man.
Cruz Portillo and Thao were both pronounced dead at the scene, and autopsies confirmed they died from "firearm-related trauma," according to a news release from the medical examiner.  The medical examiner's office is conducting "additional testing," according to the Friday news release.  Investigators believe Thao was involved in a domestic relationship with a Madison woman, and the two had a child together. The woman and the two men all worked at B&G Foods in Stoughton.  Thao suspected that Cruz Portillo and the woman were together, went to the Town and Country Mobile Home Park, 1105 Kellogg Ave., on the night of May 20.  Police believe Thao shot Cruz Portillo "multiple times" and then shot himself with a handgun in the presence of the woman, said Janesville police Lt. Chad Pearson.
June 6th,  2021: Bernard Waite, Age 87, Sparta, WI
New details have been released in a case involving a man who is receiving six charges after attacking three people in the Town of Sparta, killing one person, earlier this month.  According to the Monroe County Sheriff's Office, 36-year-old Thomas Aspseter attacked 87-year-old Bernard Waite, 76-year-old Michael Waite, and 73-year-old Margaret Waite with an axe, killing Bernard Waite on June 6.  New information from the Sheriff's Office shows that Aspseter used to live with Bernard and his wife. After being away for the weekend, the Waites returned to find Aspseter had returned and broken into the home. After being told to leave, the attack ensued, according to the Sheriff's Office.  Michael is still hospitalized, while Margaret has been treated for her injuries and released.  Aspseter is charged with first-degree intentional homicide, two counts of attempted first-degree Intentional homicide, and three counts of aggravated battery with the use of a dangerous weapon.
June 7th,  2021: Christina A. Durkee, Age 72, Fort Atkinson, WI
A Fort Atkinson woman told police she killed her 72-year-old grandmother last week, claiming the elder had said she wanted to die, by covering her nose and mouth with duct tape, according to court documents.  Then five days later, Elizabeth M. Durkee told police, she set her grandmother's bedding on fire, which set the house ablaze, according to a criminal complaint filed Tuesday.  Durkee, 36, of Fort Atkinson, was charged with first-degree intentional homicide, arson, strangulation and mutilating a corpse, for a series of events that culminated in a Friday morning fire that brought authorities to the Foster Street home in Fort Atkinson.  While at first it had appeared that Durkee's grandmother had died in the fire, an autopsy found she had died well before that, the complaint states. Investigators had also noticed when her body was found that it had begun to decompose, according to the complaint.  Durkee was arrested early Saturday at a motel in Delavan, where she was found with her 2-year-old daughter. The child was put in the care of other family members.  Durkee's grandmother was not identified by name in the complaint. According to Jefferson County property records, the home at 415 Foster St. is owned by Christina A. Durkee. Court records also list her as having lived at that address since at least the early 1990s.  Durkee appeared in court Tuesday where bail was set at $1 million. She will be back in court for a preliminary hearing on Aug. 6.  The homicide charge carries a mandatory life prison sentence.
According to the complaint:  Fort Atkinson police and fire responded to the fire at the home. A neighbor said she had seen a woman and a small child leave just before the fire, but did not know if an older person who lived at the home was still inside. Rescuers were unable to get inside because of the intense flames.  Police knew the home's occupants and called the older person's daughter, who said her own daughter, Elizabeth Durkee, and her daughters had been living at the home with the older person.  Attempts by police to reach Durkee by phone were unsuccessful. Video from a camera on the nearby Hoard Museum, which backs onto Foster Street, showed a silver car back out of the driveway at 10:44 a.m., and by 10:46 a.m., smoke was visible from the front window of the home.  The daughter of the victim said the victim had wanted to leave the house to Durkee because she did not want Durkee to be homeless. Durkee's 17-year-old daughter had been living there but moved out, after becoming "stressed out" living there, the victim's daughter told police.  When an agent from the state Division of Criminal Investigation contacted the 17-year-old Friday night, she said her mother, Durkee, had said she wanted to put the victim out of her misery. She said Durkee told her she hoped her grandmother would fall, or that Durkee could smother her with a pillow, or that she would die in a fire at the home, or a tornado would hit the house.
Several hours later, police located Durkee and her younger daughter at the Super 8 Motel in Delavan. They forced their way into her room when she did not answer the door.  Durkee told police she lived at the home with her 2-year-old daughter and her grandmother, who was in poor health. She had advanced Parkinson's disease and diabetes, was blind, and had suffered a stroke in March. She was bedridden much of the time, Durkee said, and required constant assistance.  But as her health declined, she feared going to a nursing home, Durkee said. She claimed her grandmother said she did not want to live anymore and wanted to be with her late husband.  On June 7, as Durkee made dinner, she said she and her grandmother talked about Durkee helping end her life. Durkee said she didn't know how she would do that.
After helping her grandmother to bed later, her grandmother again said she wanted to be with her husband. She and Durkee then said they loved one another.  Durkee said she then covered her grandmother's nose and mouth with flower-colored duct tape. After about two minutes, she said, her grandmother stopped moving. Durkee said she covered her grandmother with a blanket and later removed the duct tape.  Durkee said she didn't leave the house for two days and spent most of the week wondering what to do. She decided against calling an ambulance.  On Thursday, she noticed her grandmother was decaying. She tried to mask the smell but then decided to burn the house with herself and her younger daughter inside. She poured gasoline on furniture on the first floor, but decided not to start a fire.  Then on Friday morning around 9 a.m., she told police, she packed up some things for her daughter, went into her grandmother's bedroom and lit a blanket on fire. She and her daughter then left in a car, she told police.
June 12th,  2021: domestic violence-related suicide, Milwaukee, WI
DV—PARTIES ARE INTIMATE PARTNERS AND SHARE CHILDREN.  SUICIDE VICTIM SHOT DV VICTIM AND THEN KILLED HIMSELF.  DV VICTIM SURVIVED, BUT WILL BE PERMANENTLY AND SIGNIFICANTLY DISABLED.
June 13th,  2021: Brittany A. Meyer, Age 23, Milwaukee, WI
"Gun violence took her life away and we are so devastated," said Eva McClinton.  A grieving family gathered with balloons held tightly in hand Monday to honor a life lost; an all-too-familiar sign.   "Put down the guns and let's start loving each other. Please, everybody," McClinton said.  23-year-old Brittany Meyer was shot and killed Sunday near 21st and Galena.
June 14th,  2021: Kathleen N. Beggs, Age 97, Center, WI
The 37-year-old Rock County man accused of killing his 97-year-old grandmother told police officers and family members he was both seeing and hearing demons at the time.  Jamie Beggs now faces first-degree intentional homicide for allegedly killing his grandmother Kathleen Beggs earlier this month at her home in the Town of Center.  According to a criminal complaint, Beggs had been living with his grandmother prior to her death. On the morning of June 14, the complaint says a third person, whose name has been redacted, but was named in court as the victim's son, stopped by the home.  According to the complaint, Beggs asked the person if they could "see the demons" before telling them his grandmother was in the garage. The complaint then details the scene of the homicide.
A judge set Beggs' bail at $100,000 in cash during an initial appearance Friday afternoon. Under his bond, he is not allowed to have contact with the victim's children, possess a weapon or drink alcohol.  "This is an extraordinarily violent case," said Rock County Assistant District Attorney Alex Goulart. "This isn't a 'whodunnit' type case.  This is a case where the victim, victim 2, shows up to the house and the only people there are his dead mother, the decedent and the defendant."  Prior to his arrest, Beggs had 13 previous convictions, including five for domestic violence.  Kathleen Beggs' other relatives asked the court to consider a stronger bond.  "My grandmother was the only person that saw good in Jamie and he destroyed her," said Kate Fitzgerald, who spoke in court Friday afternoon. "I understand that you, that someone is innocent until proven guilty, but with his history of violence and his history of not showing up to court, I feel that bond should be set upwards of $250,000."
"What difference does it make if it's $100,000 or $250,000, except for what it looks like in the newspaper?" asked defense attorney Frank Raff. "It could be $10 or Monopoly money.  He has no money to post.  The fact is he's going to remain in custody until this case is over if the judge sets a cash bail."  According to the complaint, Beggs told police his grandma was a "martyr" and said her death gave her "sainthood."  Beggs will make his next appearance in court July 6 at 1 p.m.
June 21st,  2021: TJ M Howard, Age 34, and Cinjinio La Ward, Age 49,  Milwaukee, WI
Two men were shot and killed late Monday night, June 21 near 16th and Fiebrantz; the shooting stemming from an argument, according to Milwaukee police.   There was an emotional scene on North 16th Street Monday night as loved ones of the men shot at a home learned of their deaths. Neighbors say violence here and elsewhere in the city tragically overshadows the good. TJ Howard, 34, was found dead inside the home. Cinjinio Ward, 49, was taken to Froedtert Hospital, where he was pronounced dead.
June 29th,  2021: Hannah Miller, Age 26, Pelican, WI
Authorities say a number of factors helped them quickly identify a homicide victim's ex-boyfriend as the suspect in her death.  The body of Hannah Miller, 26, was found near River Bend Road near Highway 8 around 11 a.m. on Wednesday morning. The Oneida County Sheriff's Department identified Christopher Terrell Anderson, 30, as the suspect and released his photo along with two photos of SUVs he may be driving just two hours later.
Court documents state two eyewitnesses played a key role in the quick dissemination of information.  The two people called 911 after finding a woman in the ditch. They also said only 15 minutes earlier they had been down the same road and saw a man and woman outside of a white SUV. When they passed by the scene later, the vehicle and man were gone, but the woman's body was in the ditch. One of the witnesses was shown a photo of Anderson and told authorities that was the man she saw outside of the SUV the first time they drove by.  At the scene, investigators found three spent shell casings and three live rounds. They did not find a gun, but during the course of the investigation made contact with a person near the scene that said he heard two to four gunshots.
Court documents say Miller and Anderson had been in a relationship for several years but had broken up in recent weeks. Friends of Miller told investigators the relationship was abusive.  On June 2, Miller reported to police Anderson had one of her vehicles and would not give it back. During that investigation, Miller said she feared Anderson would kill her.  A family member told authorities while Anderson did move out of the apartment the couple once shared, he likely still had a key.  Authorities confirmed Thursday, the couple's child is safe and is with family.  Anderson is not in custody. Prosecutors have already filed a charge of first-degree intentional homicide.  If you have any information about the whereabouts of Christopher Terrell Anderson call the Oneida County Sheriff's Department at 715-351-5201.
July 1st,  2021: Bart Halderson, Age 50, Windsor, WI
Human remains that were discovered during a search for a missing Wisconsin couple are those of the husband, the Dane County Medical Examiner said Monday.  Authorities said the remains found Thursday night in the town of Cottage Grove are those of Bart Halderson, 50, of Windsor. The cause of death was listed as "homicidal violence including firearm injury."  The Dane County District Attorney's office said it expects to charge Chandler Halderson, the couple's 23-year-old son, in his father's death, the Wisconsin State Journal reported.
Chandler Halderson reported Bart and Krista Halderson missing on Wednesday and was arrested Thursday on a charge of providing false information to investigators. The son told police his parents had planned to spend the July Fourth weekend at their cabin in White Lake in Langlade County with an unknown couple but that they never returned.  Interviews with the couple's family, friends and neighbors led investigators to a property in the county Thursday where they found Bart Halderson's remains.  Krista Halderson, 53, remains missing.
July 30th Update – July 1st,  2021: Krista Halderson, Age 53, Windsor, WI
Dane County Sheriff Kalvin Barrett says human remains found earlier this month in the Town of Roxbury near DNR land along the Wisconsin River belong to Krista Halderson.  Barrett provided the update during a press conference on Friday morning.  According to the sheriff's department, Krista Halderson's body was also dismembered.  Her remains were found on July 14, after a woman had reported seeing Halderson's son, Chandler, in the area and acting suspiciously on July 3rd.  Barrett says the Sheriff's Department is now pursuing a second charge of homicide against Chandler Halderson, who was already facing homicide charges in the death of Bart Halderson.
Bart Halderson's remains were found near Cottage Grove and previously identified by the Dane County Medical Examiner.  The sheriff's department has continued to search several areas for more evidence in the case. Investigators concluded their search of the Waste Management landfill in Watertown on July 28th, and dive team members are continuing to search a pond behind the Haldersons' home in Windsor. Authorities are also continuing to search and process everything inside the Haldersons' home.  "We are hoping to discover any and all information relevant to this investigation," Barrett said Friday. "We have not made any conclusions and we will continue to investigate every time and lead to ensure that we have investigated this incident to its completion."  Authorities say more human remains were found on the property, but those remains have not yet been identified.  "We have kept the Halderson family in our thoughts and prayers throughout this investigation and we extend our continued sympathies to them today," Barrett said. "We ask that everyone allow them to grieve this tremendous loss with the utmost dignity and space."  The sheriff's department is still encouraging anyone with possible information about the case to contact them at 608-284-6900.
July 4th,  2021: Narianna Statten, Age 18, Milwaukee, WI
Milwaukee Police are still searching for the person who killed an 18-year-old woman Sunday night.  Police said the woman was shot and killed around 11:35 p.m. near 26th and Burleigh. She was pronounced dead at the scene.  Police confirmed an Amber Alert that was activated around 4 a.m. on Monday and then later canceled for a 1-year-old child, is connected to the homicide.  The suspect, Renado Hall, forcibly took the child while armed with a handgun and fled in an unknown direction, according to police.  The child was later found safe, but police are still searching for Hall.  Family of Narianna Staten say they will remember her "amazing smile and love for others."  Rynesha Staten, her cousin, tells CBS 58 "no matter how many dark times she faced, her light never dimmed."
The Asha Project Director Antonia Drew Vann said domestic violence incidents, like Staten's, spiked during the pandemic.  "The amount of anger and stress, the arguments, all of these are coming from somewhere," Drew Vann said. "We know she was trying to distance herself from him, and that is when women are in the most danger."  Drew Vann said the victim and family members might notice different behaviors in situations like this. Those need to be taken seriously.  "There's a number of signs that are there, but often times, women don't want to believe they are going to die," Drew Vann said.  If a weapon is involved, Drew Vann said the victim should find a safe space and believe any threats the person is making.  "When a perpetrator has a gun, has access to a weapon, that makes the female 500 times more likely to die," Drew Vann said.  While this advice is too late to save Staten, Drew Vann said there are several organizations in Milwaukee that can help women immediately.  "There are resources and support within the community that were culturally designed by and for those populations," Drew Vann said.  Milwaukee Police continue to seek a known suspect. Anyone with any information is asked to contact Milwaukee Police at (414) 935-7360 or Crime Stoppers at (414) 224-TIPS or P3 Tips App to remain anonymous.
July 4th,  2021: Keairra C. Fields, Age 31, Madison, WI
Madison police say they now have a person of interest in custody in a homicide that happened over Fourth of July weekend.  The Dane County Medical Examiner on Wednesday identified the victim as 31-year-old Keairra C. Fields, of Madison, who died after being shot about 1:30 a.m. Sunday in the 1700 block of Onsgard Road on Madison's Far East Side.   Police are investigating Fields' death as an act of domestic violence, and there had been a history of domestic disturbances between her and the person of interest who was taken into custody in Indiana on an unrelated charge, Capt. Daniel Nale said.  Fields and that man had recently moved to Madison from another community in Dane County, Nale said. Police had multiple contacts with the couple where they used to live, but Madison police only had one, Nale said. That domestic disturbance call did not result in an arrest, he said, but the man had been ordered by a judge not to have contact with the woman.
July 19th,  2021: Unnamed Mother/Grandmother , Age not specified, Dodgeville, WI
IOWA COUNTY, Wis. – The Wisconsin Department of Justice Division of Criminal Investigation (DCI) today announced that Aric L. Way, 51, of Glendale, Wis., and Philip G. Schmidt-Way, 28, of Loveland, Colo., have been charged with First Degree Intentional Homicide as Party to a Crime, in connection to the murder of their mother/grandmother in Dodgeville, Wis. on July 19, 2021.  "These charges are the result of a collaborative effort among several agencies working to get justice in this case," said Attorney General Josh Kaul. "Thank you to the many people involved in this investigation and prosecution."  "This was a challenging case to work and took a really concentrated effort from all of the agencies involved to move it forward," said Iowa County Sheriff Steve Michek. "My sincerest thanks to everyone who has worked on this case."  On July 19, 2021, the victim was found deceased in her Dodgeville, Wis., home. An autopsy determined carbon monoxide poisoning to be a contributing factor to the cause of death. According to the criminal complaint, the victim had recently agreed to sell the family farm, which Schmidt-Way was set to inherit upon the victim's death. The complaint states that there were no obvious sources to explain elevated levels of carbon monoxide in the home. Mr. Way purchased products known to react together to create carbon monoxide and Mr. Schmidt-Way's vehicle was seen on camera at the victim's home on the night of her death.   As in any criminal proceeding, Mr. Way and Mr. Schmidt-Way are presumed innocent until proven guilty.  This case was the result of an investigation by the Iowa County Sheriff's Office and DCI with assistance from the Wisconsin State Crime Lab, Dodgeville EMS, Dodgeville Fire, Northern Colorado Drug Task Force, Larimer County Sheriff's Office – Colorado, UW Hospital, Glendale Police Department, Eastern District of Wisconsin U.S. Marshals Service, Wisconsin State Patrol and the Bureau of Alcohol, Tobacco and Firearms. Victim services are provided by the Iowa County District Attorney's Office. The case is prosecuted by Assistant Attorneys General Nathaniel Adamson and Edward Minser.
July 22nd,  2021: Patricia A. McCollough , Age 55, Madison, WI
A Madison man has been charged with first-degree reckless homicide after police in September found the decomposed body of his former girlfriend at the Far East Side home where they had lived, then listened to jail calls between him and his current girlfriend as the two settled on a story to tell police, according to a criminal complaint.  Gregg G. Raether, 56, told police he had nothing to do with the death of a 55-year-old woman identified in the complaint only by her initials but by the Dane County Medical Examiner's office on Monday as Patricia A. McCollough, of Madison.  The complaint, filed late Friday, says police believe McCollough died on or about July 22. Police went to her home on Sept. 16 after a caller who identified herself as McCollough's daughter asked police to check on her mother's welfare since she had been unable to reach her by phone.  After looking through windows and seeing that the house was in disarray and getting no answer at the door, police entered the home and found McCollough's body in a bedroom, buried under a pile of dresser drawers, shelving, televisions and bedding material.  The 24-page criminal complaint was the first public mention of the homicide case. It indicates that on Dec. 11, police received the results of a Sept. 17 autopsy by the Dane County Medical Examiner's Office, which found McCollough is suspected to have been the victim of a homicide and died from mechanical asphyxia, a term sometimes used to indicate strangulation, along with blunt force trauma to her torso.  But in a press release Monday, the Medical Examiner's Office did not list the cause of McCollough's death. The office said preliminary autopsy results are "pending further study and investigation." Asked by the Wisconsin State Journal Monday night to explain the discrepancy, a staffer in the Medical Examiner's Office said to call back Tuesday morning and speak with a supervisor.  Madison police spokeswoman Stephanie Fryer said Monday that there was a delay in publicly disclosing the homicide because the medical findings were not known to police until Dec. 11. The discovery of McCollough's body preceded Fryer's work as public information officer, Fryer said, so she does not know why no news release was issued when that happened, although a brief item appeared in Chief Shon Barnes' daily blog on Sept. 17.  Raether, who is on state Department of Corrections supervision for prior convictions, was taken into custody late in the afternoon of July 23 on an unrelated matter and remained in jail until Sept. 4.  While he was in custody, the complaint states, he made calls from the jail to Sherri L. Albrecht, 56, of Madison, in which they guardedly talked about what happened to McCollough and what they were going to tell police if they were asked about her.  Raether was jailed again on Sept. 24 when police told the DOC that he was a person of interest in a homicide case, according to DOC spokesperson John Beard, and was held on supervision violations as police continued to investigate McCollough's death.  In addition to reckless homicide, which is charged as a crime of domestic abuse, Raether is charged with possession of a firearm by a felon and three counts of unauthorized use of food stamps. Albrecht is charged with four counts of unauthorized use of food stamps. She is being sought on a warrant.  Raether appeared in court Monday, when Court Commissioner Jason Hanson agreed to set bail at $500,000.  "There's certainly probable cause to believe there was an extraordinarily violent encounter between the defendant and the victim," Hanson said. "There's also reason to believe, at least from the perspective of what's alleged here, that she was essentially left for dead.
July 25th,  2021: Leianna Mule, Age 30, Fox Crossing, WI
A Fox Crossing man who called in his girlfriend's death is now being charged in connection to her murder.  26-year-old Phillip Dellar reportedly called police on Sunday, July 25th and told the dispatcher that someone came into his apartment and stabbed his girlfriend. Responding officers found 30-year-old Leianna Mule unresponsive in the Valley Road apartment. Life-saving measures were unsuccessful. Dellar was also taken to St. Elizabeth's hospital for wounds he had sustained during the incident.   Following an extensive investigation involving Wisconsin Crime Lab and State Patrol assistance, Dellar was taken into custody on Friday. He is being held in the Winnebago County Jail on one count of 1st Degree Intentional Homicide.No further details were made available, and police say the investigation is ongoing.
Murder, neglect, and abuse charges have been filed against a Hayward man and woman after a 4-year-old suffering from cerebral palsy died in their care and a "lethal" amount of alcohol was detected in her bloodstream.  The child's mother, Samantha Smith, 26, and her significant other, Domenic Falkner, 25, have been charged in connection to the case.  Falkner is facing first-degree intentional homicide, physical abuse of a child, and chronic neglect of a child charges. He's expected to appear in Sawyer County Court Wednesday morning.  Smith is facing chronic neglect of a child and physical abuse charges. She is also set to appear in court Wednesday morning.
According to court documents, first responders were called to a home on W. 2nd. St. in Hayward on July 28, 2021.  They received a report that a 4-year-old wasn't able to wake up.  When first responders arrived, they declared the young girl deceased.  An autopsy was not conducted at the time of the victim's death, but the Sawyer County Coroner drew a sample of her blood and sent it in for analysis.  The Wisconsin State Laboratory of Hygiene determined the victim had a blood alcohol content of .572 g/100mL at the time of her death.  Because of this discovery, an autopsy was performed and her cause of death was ruled acute ethanol toxicity with the manner of death being homicide.  Law enforcement interviewed both Smith and Falkner after these findings. They both admitted to being the only ones home at the time of the victim's death.  They also said they were the ones to feed the victim through her feeding tube.Smith also stated that she typically was the person who administered medications via the victim's feeding tube.
According to court documents, the victim was diagnosed at or near birth with severe cerebral palsy. She could not speak or move and received nutrition and hydration through a feeding tube only.  Falkner was an approved caregiver through Sawyer County Human Services and was paid to care for the victim by Certification for Long Term Care (CLTC.)  According to court records, Falkner moved into Smith's home to help care for the child in August 2020.  Law enforcement says that date is significant because before then, the victim had never had any indication of abuse during her extensive doctor visits for her cerebral palsy diagnosis.  However, after that date, law enforcement learned there were multiple incidents where the victim was either hospitalized for trauma or when the victim's father apparently noticed signs of abuse.  It is unclear why charges were filed months after the girl's death.  It's also unclear if law enforcement was aware of the possible abuse leading up to the victim's death or if signs of abuse were reported.
July 30th,  2021: Latrell A. Shavies , Age 23, Milwaukee, WI
Latrell Shavies was found to have been fatally shot on July 30, 2021. He was discovered at 7500 block of W. Stark Street, and the Milwaukee County Medical Examiner ruled his death a homicide.  He was 23 years old when he died.
July 31st,  2021: Benjamin C. Brewer, Age 33, Muscoda, WI
Authorities arrested a Muscoda woman Saturday night after she allegedly shot a man and killed him during a argument.  The Richland County Sheriff's Office responded to a call around 9:10 p.m. in Forest Township, that stated a man had been shot and needed an ambulance. The report stated the man and his girlfriend had gotten into a physical altercation, which later turned into a fatal shooting.  Richland County deputies and EMS responded, but the man died before help could arrive.  The man was identified as 33-year-old Benjamin C. Brewer.  The agency reports that Lori M. Miller, 43, was treated for minor injuries and was later booked at the Richland County Jail on the charge of second degree reckless homicide.
August 25th,  2021: Unnamed Daughter, Age 5, Wausau, WI
The Everest Metro Police Chief has confirmed to News 9 that the child who was in a medically induced coma after allegedly suffering abuse at the hands of its adoptive parents has died.  He says the child died on August 25.  Jonathan and Sumitra Stolp had appeared in court on August 18 and faced a primary charge of child abuse recklessly causing harm.  According to police and prosecutors, a 5-year-old was taken to Marshfield Medical Center on Sunday, Aug. 15 with a skull fracture, bleeding on the brain, and elevated levels of both alcohol and Tylenol in their blood.  Jonathan and Sumitra appeared in court on Wednesday where charges were not yet filed. Assistant District Attorney Rory McGarry said the child's parents kept changing their story when speaking with authorities.  "Ultimately the co-defendant again changed her story and admitted to law enforcement that the child never fell off the slide. She indicated in that story that the child was on her knees when she was in a chair at the house when the child pushed off and fell and hit her head on the carpet," McGarry said.  Sumitra also reportedly told the police that she was rocking the child and the girl started seizing. However, Marshfield Medical Center where the child was treated, says it doesn't add up.  "Personnel at the Marshfield Medical Center reported to Everest Metro that the subdural head trauma and the acute fracture that wrapped around both sides of the child's head is not conclusive with a fall and seizure," McGarry said.  Jonathan's lawyer asked the judge to release him from custody, alleging that he was not in the room when the child was hurt.  "He was elsewhere in the house and it's my understanding that he provided evidence to law enforcement that he wasn't anywhere near in the vicinity which they were able to confirm," Attorney Kirk Obear said.  The judge denied the request. Both parent remain with cash bonds of $75,000 and are expected back in court on September 29.
August 26th,  2021: Mercedes Hernandez Age 19, Milwaukee, WI
A 21-year-old Milwaukee man is accused in a double shooting on the city's south side – in which one woman died from her injuries. The accused is Renzo Rascon-Gamboa – and he faces the following criminal counts:
First-degree reckless homicide, use of a dangerous weapon

First-degree reckless injury, use of a dangerous weapon
According to the criminal complaint, an officer was dispatched early on Aug. 26 to 14th and Washington in Milwaukee for a vandalism complaint. The officer spotted a car with a "shattered rear window and two bricks resting atop a broken windshield."  The officer also came upon five females — one who indicated "she had ongoing issues with her ex-boyfriend, the defendant." The woman said that morning she and her girlfriends were "retaliating for an earlier incident where her vehicle was damaged on July 9," the complaint says. The woman admitted to officers she had broken the windows of the vehicle at 14th and Washington.  About an hour-and-a-half later, officers were dispatched to a shooting at 11th and Hayes where they found the victim "in the front passenger seat of a vehicle with a gunshot wound." She later died. A second woman suffered a non-life-threatening gunshot wound to one of her ears.  The complaint says when officers again spoke to the woman who admitted to damaging the car earlier, she said she and the four other women returned to the scene of the vandalism because one person had lost her wallet. The woman "admitted they saw the defendant's vehicle and chased it. (The woman) said that she heard a gunshot and saw the defendant's vehicle suddenly pull over," the complaint says. At that point, the complaint says "the defendant exited the passenger side of the Honda and fired a gunshot at them." The woman said she saw two of the women get hit by gunfire. The women drove to 11th and Hayes where they met officers.
August 29th,  2021: Andre Smith II, Age 12, Milwaukee, WI
A 53-year-old Milwaukee man is accused of killing his 12-year-old grandson over money that was allegedly taken from his wallet.  "He's gone, he's gone. My baby is gone," said Nakeda Martina, the mother of 12-year-old Andre Smith II. "Andre was sweet as pie. He was so kind."
First-degree intentional homicide

Physical abuse of a child, repeated acts causing death

Neglecting a child – consequence is death

Physical abuse of a child, repeated acts with high probability of great bodily harm

Possession of a firearm by a felon
According to the criminal complaint, Milwaukee police officers responded to Children's Wisconsin on Sunday morning, Aug. 29 to investigate a child abuse complaint. When they arrived on the scene, Smith was unresponsive and rushed into the emergency department. About 45 minutes later, doctors pronounced the 12-year-old boy deceased.   The complaint indicates Martina is the grandfather of the deceased, Andre Smith II. In an interview with police, the legal guardian of the boy indicated Martina asked that the child and an 8-year-old boy sleep over at his house. Around 8:25 a.m. Sunday, Martina sent a "text message accusing (the 12-year-old boy) of stealing the defendant's money." When the guardian asked Martina where the 12-year-old was, he responded, "he's bleeding," the complaint says. The guardian immediately asked her daughter to go to the defendant's house to check on the boy.  Smith's younger brother told authorities he and Andre were struck by Martina with a mallet, sledgehammer, a coat rack, and a cane. The Milwaukee County Medical Examiner's Office said Smith suffered a severe skull fracture, consistent with multiple blunt force blows to the head.  The complaint indicates Martina is the grandfather of the deceased, Andre Smith II. In an interview with police, the legal guardian of the boy indicated Martina asked that the child and an 8-year-old boy sleep over at his house. Around 8:25 a.m. Sunday, Martina sent a "text message accusing (the 12-year-old boy) of stealing the defendant's money." When the guardian asked Martina where the 12-year-old was, he responded, "he's bleeding," the complaint says. The guardian immediately asked her daughter to go to the defendant's house to check on the boy.  Smith's younger brother told authorities he and Andre were struck by Martina with a mallet, sledgehammer, a coat rack, and a cane. The Milwaukee County Medical Examiner's Office said Smith suffered a severe skull fracture, consistent with multiple blunt force blows to the head.   Police later conducted an interview with the great–grandmother of Andre Smith II. She was "awakened by the defendant yelling" at the boy. She told police she "saw the defendant striking (the boy) with a hammer," the complaint states.   On Monday, Aug. 30, police detectives interviewed Martina. He indicated in May 2021, he returned to Milwaukee from Indiana and "wanted to reconnect with his grandchildren. The defendant learned that (the 12-year-old boy) had a problem stealing, according to the complaint. The defendant recalled telling his grandchildren in the past, "if you lie, if you mess up in school, if you steal, I'm going to kill you."   Martina told police around 3 a.m. Sunday, he woke up and "noticed that his wallet was open and money was missing." Martina indicated he went into the living room and confronted the 12-year-old about the money. The complaint says he "smacked (the 12-year-old boy) repeatedly, demanding that (the boy) get the defendant's money." Martina "claimed to not know what else to do in order to get his money back," the complaint says. The boy "ran into the bathroom and locked himself inside in an attempt to protect himself from the defendant. The defendant picked the lock open and 'lost it' on (the boy)," according to the complaint.  "He ain't have to kill my baby," Nakeda Martina told FOX6 News on Tuesday. "It's not right. I haven't slept or ate since they called me Sunday morning and said my child was dead. No mother wants to get that phone call. He was only 12."  During the interview with police, the "defendant admitted to killing a boy in 1989 and said he wanted to talk with police as the defendant has nothing to hide." The Wisconsin Department of Corrections told FOX6 News Andrez Martina served a mandatory four-year sentence starting in 1990 for homicide by reckless conduct and was released.  "My dad killed somebody in 1989.  The system failed to stop him from doing that again.  Unfortunately, his last victim was my child," said Nakeda Martina.  The defendant also believed the entire incident noted above lasted more than five hours.
September 5th,  2021:  Chanelle Cox, Age 21, Milwaukee, WI
An arrest warrant has been issued for 21-year-old Michael Dabney of Milwaukee – in connection with the homicide of a woman near 20th and Villard on Sept. 5. Dabney is charged with first-degree intentional homicide, use of a dangerous weapon.  According to the criminal complaint which was filed on Monday, Nov. 8, officers were dispatched to a residence near 20th and Villard on the evening of Sunday, Sept. 5 for a report of a possible suicide attempt. When officers entered the apartment, they found a woman who had suffered a gunshot wound and was deceased.  The complaint indicates police and detectives who examined the scene "found circumstances that were inconsistent with the gunshot wound being the result of a suicide attempt." For one, investigators say the gun itself had no tissue consistent with "a close-range shot." Also, the man who called 911 identified himself as "Keon Harris." However, police "have been unable to locate anyone named 'Keon Harris' and can find no record of his existence. The number that called 911 has been turned off and calls to the number resulted in a disconnected tone," the complaint says.  The complaint says detectives spoke with a witness who was outside of the apartment building at the time of the gunfire. That person saw a man that the witness "recognized as the father of (the victim's) child." That person was seen entering the building. Minutes later, the witness heard a gunshot and saw the victim's child's father walking away briskly. The person leaving the area was later identified in a photo lineup as the defendant.  According to the complaint, investigating detectives obtained recordings of the defendant's voice from body camera footage from an earlier incident in 2021. They "believed that the defendant's voice as heard on the bodycam matched the 911 caller who reported the possible suicide."  Lastly, the complaint says police traced the gun that was found in the victim's hand. They found it "was purchased at a Milwaukee gunshop on August 21, 2021. The purchaser was listed as Michael Dabney."  Again, online court records indicate an arrest warrant has been issued for Dabney. If you have information that could help investigators locate him, you are urged to call Milwaukee police.
September 6th,  2021:  Hank Brown-Rockow, Age 6, West Allis, WI
Prosecutors say a West Allis woman restrained her 6-year-old son in handcuffs for hours at a time, denied him food and refused him medical treatment for severe injuries from abuse, causing his death.  Tasha M. Rockow, 31, was charged Saturday with false imprisonment and chronic child neglect resulting in death. Her son, Hank F. Brown-Rockow, was stabbed in the abdomen and died from blunt-force trauma, prosecutors say.  Rockow is in custody on $151,000 bail, according to Milwaukee County Jail logs.  The boy's death Sept. 6 follows a year and a half of abuse and neglect, friends and relatives told police.  While Rockow called 911 that day to report her son had fallen on a knife, paramedics, doctors and the medical examiner determined the stabbing must have occurred much earlier, according to a criminal complaint.  The medical examiner also determined the stabbing was not the cause of death. After a separate incident of blunt-force trauma to Brown-Rockow's abdomen, prosecutors argue, Rockow did not seek medical treatment for her son, causing complications and his slow death over time as he became septic.
According to the complaint:  Brown-Rockow lived with his father for most of his life and was placed in his mother's care when his father died in March 2020.  Rockow disliked her former partner and took out her "animosity" on her son, Rockow's sister believes.   A friend as well as Rockow's sister reported they were aware of the abuse Rockow-Brown suffered once he was moved to his mother's house. He was treated "very differently" than her other two children, ages 9 and 10, who had lived with her for years, court documents said.  Brown-Rockow was not allowed to use any furniture and had to stand at the dinner table and eat, while others got to sit, Rockow's sister reported. He was often denied food. Rockow also would hold hot sauce on a plastic fork on her son's tongue, causing him to vomit.  He was always dressed in long pants, the same sweater, a mask and a hat to hide extensive bruises and injuries from abuse, even in the summer heat, Rockow's sister said.  Rockow also forced her son to stand against a wall with his palms against the wall, above shoulder-height, for a half-hour or more at a time.  Rockow treated her son "like a convict," her sister said.  In July, a new friend of Rockow found the boy handcuffed, with his hands behind his back and his legs shackled, in Rockow's bedroom. Rockow explained she was punishing him because he stole and played with knives. He was handcuffed for at least three hours.  The friend also observed Rockow's two other children beating the 6-year-old.  When Rockow called 911 on Sept. 6 to report the stabbing, she told dispatchers the bruises covering his body were from his siblings, who fought with him regularly.  She also said her son fell on a knife he was playing with. Once she was arrested, she also told police she called 911 immediately after he was stabbed and that she pressed a towel against a rush of blood.  But paramedics responding to the home found Brown-Rockow was not bleeding. And doctors found no blood in his abdomen. They determined he had been stabbed earlier.   Separately, the boy also suffered blunt-force trauma to his abdomen, causing a tear in his small intestine that was not treated.  The injury "would have resulted in significant pain and discomfort for (Brown-Rockow). (He) would not want to move, and would have exhibited vomiting and increased discomfort over time as (he) became septic," the complaint states.  His official cause of death would become blunt-force trauma to his abdomen, which his siblings denied causing in interviews with police.  The medical examiner also reported both of Brown-Rockow's arms had recently been broken, as well as his wrist.  "A reasonable caretaker would have sought timely medical care for (Brown-Rockow's) fractured arms and (his) abdominal injuries," the complaint states.  Police also found Brown-Rockow's vomit-stained bedding on the back porch, where presumably he had been sleeping. Rockow said he had been wetting the bed recently.  Doctors and the medical examiner also reported the boy was bruised "head to toe," had no muscle tone and was malnourished. They noted contusions, cuts and soft tissue hemorrhages covering his body, including to his head and internal organs. He also had human bite marks on his skin.  In Rockow's internet history police found several searches about concealing black eyes, "at home treatment for head trauma," stomach bloating and swelling solutions and various kinds of physical restraints dating back to July.  Rockow told police she had no explanation for the severity of his injuries, the bruising or the bite marks.  Rockow also told police her son attended virtual school and she had not taken him to the doctor since he was placed in her care last year.  If convicted of both charges, Rockow faces up to 66 years in prison.
September 7th,  2021:  Janine Sznitko, Age 35, Kenosha, WI
One day after a Wisconsin woman was found murdered in her home, authorities discovered the primary suspect dead in an Illinois motel.  According to a release from the Kenosha Police Department, officers conducted a welfare check at the home of 35-year-old Janine Sznitko Tuesday after her employer reported that she didn't show up to work in the morning.  When they arrived at the residence, they found Sznitko deceased from a single gunshot wound to the chest, the police department stated, alleging that her firearm and vehicle were also missing.
The Kenosha PD named 51-year-old Roberto Andino a person of interest Tuesday, alerting locals to call 911 if they saw him. They warned that he may be driving Sznitko's car, a 2021 black Kia Sportage.  On Wednesday, Sznitko's Kia was spotted outside a motel in Chicago's West Side. Andino allegedly barricaded himself inside one of the motel rooms, prompting a SWAT team response.  The standoff between authorities and Andino was reported live by local news outlets, — though at the time, his identity had not been confirmed. The barricade situation ended when authorities acquired a room key and entered the motel room, where they discovered a man dead from a self-inflicted gunshot wound.  The Cook County Medical Examiner's Office confirms to PEOPLE that the man found dead was Andino, who's since been named by Kenosha police as the primary suspect in Sznitko's murder.  Andino was wanted on an unrelated warrant when Sznitko was killed.  Since Sznitko's death, loved ones have alleged that she lived in fear of Andino hurting her.  Sznitko's sister said she had met Andino at a bar and soon began fearing for her safety. She allegedly warned her family that if something happened to her, they should look for Andino.  A man, who identified himself as a friend and neighbor to Sznitko, told a similar story to Kenosha News — though he described Andino as Sznitko's former boyfriend.  Sznitko allegedly wrote to the friend, who wished to remain anonymous: "Sorry, I've been dealing with some major personal issues. If anything happens to me please tell the cops to look into Roberto Andino."  Sznitko provided her friend with Andino's birthdate and a description of him, then added: "I've made a report on him already but the cops said they can't do anything until there is a trail of evidence."  When Sznitko's friend offered for her to stay at his place if she felt unsafe, she allegedly replied, "Okay cool, thank you. I have my gun but really don't want to use it other than at a gun range."  Sznitko's time of death has not been released, but neighbors told Kenosha News that they last saw her walking her dog on Saturday. On Sunday, they allegedly heard loud music coming from her home — where she lived alone — and saw that all her blinds were closed, which they noted as unusual.
September 8th,  2021:  Thomas Boettcher, Age 53, Town of Brockway, WI
A first degree murder charge was filed Monday against a rural Black River Falls woman accused in the stabbing death of her live-in boyfriend earlier this month.  Kellie Schmidt is charged in the September 9 stabbing of Thomas Boettcher.  According to the criminal complaint he died several hours after being stabbed in the arm with a knife. Responding Jackson County deputies then found Schmidt attempting suicide in a nearby garage, and rescued her.  She later told investigators she did not remember what happened, but in a jail phone call she was overheard saying "he was going to set me on fire and I didn't know what else to do".  Schmidt's nephew told detectives the couple consumed alcohol daily and fought frequently.  He also said she had previously stabbed an ex-boyfriend, and had admitted once poking Boettcher in the chest with a butcher knife while he slept.  Bond was set at $1 million Monday for Schmidt. She returns to court September 28.September
September 14th,  2021: Domestic Abuse Suspect Dead, Waukesha, WI
A man died Tuesday morning, Sept. 14 after a run-in with Waukesha police. Police have identified him as Paul Bruner.   The incident actually began with a medical call to the Waukesha Fire Department about a 58-year-old man who was having trouble breathing.  As it turned out, that man was a domestic abuse suspect who police tried to arrest early Tuesday morning. Instead, a violent series of events took place in the area of Ellis Street, where neighbors said they heard the commotion.  "I just heard commotion outside," said a neighbor. "There were noises."  "Has COPD, has a prescribed inhaler," said dispatchers of the man who was reportedly having trouble breathing.  Waukesha police said the man was also currently under a domestic abuse injunction order. The woman stated he had kicked a paramedic in the past and warned he might become combative, indicating he tried to kick her.  "That's terrible," said a neighbor.
Officials said Bruner was uncooperative and refused medical attention. Meanwhile, the woman had visible minor injuries.  "It's pretty sad," said a neighbor.  Determining that a domestic violence incident had occurred earlier, police tried to arrest the man. Failing to comply, reports indicate the "suspect became combative."  "Sounds pretty bad," said a neighbor.  Officials said "officers were forced to utilize an electronic control device and physical force to take him into custody." After being handcuffed, "officers recognized that the suspect lost consciousness…and  was not breathing."  Bruner was taken to the hospital, where he died.  "This couple aside, domestic violence is happening all over around us, and it's the ultimate tragedy when someone dies," said a neighbor.
September 14th,  2021: Domestic Abuse Suspect Dead, Union Grove, WI
 A man died during a domestic incident at a mobile home park in Union Grove on Tuesday afternoon that led to a heavy response from law enforcement, the Racine County Sheriff's Office reported.According to an alert from the Racine County Sheriff's Office on Tuesday afternoon: At 2:14 p.m. Tuesday, someone called 911 and said there was a man in possession of a handgun who indicated he wanted to hurt himself at Harvest View Estates, 15941 Durand Ave.  The man was reportedly in a shed on the property.   When deputies arrived, they "heard a loud bang consistent with a gunshot," according to the Sheriff's Office.  Deputies reported that they set up a perimeter. They then used ballistic shields to protect a woman and two children as they fled the home that was next to the shed. Neighbors also were evacuated, and bystanders were told to shelter in place.  The Racine County SWAT Team responded to the scene. They then "used an armored Rescue Vehicle to safely approach the shed so that a Tactical Emergency Medic could render aid to the 29-year-old white male."
September 30th,  2021:  Zion Price, Age 1, Milwaukee, WI
A 22-year-old Chicago man is accused of alleged abuse that led to the death of a 1-year-old boy in Milwaukee.  The accused is Antonio Homan. He faces one count of first-degree reckless homicide, which comes with a maximum penalty of 60 years in prison.  According to a criminal complaint, first responders with the Milwaukee Fire Department were dispatched to a residence near 67th and Lisbon around 10:25 p.m. on Thursday, Sept. 30. It was noted there was an unresponsive 1-year-old child there. The emergency team performed CPR on the child and took him to Children's Wisconsin.  The complaint states that around 10:45 p.m., the child, Zion Price, was admitted into the emergency department at Children's Wisconsin. Price was "unresponsive, had no pulse, and was not breathing on his own." The complaint notes there was also bruising to Price's face, chest and legs.
Back at the residence, the complaint says police made contact with Price's mother who they said was "uncooperative with the initial responding officers and told multiple differing stories to police." Antonio Homan, identified as the boyfriend of Price's mother, was also at the scene.  Homan told detectives on Sept. 30, the child "appeared lethargic and slept most of the day." After 10 p.m., Homan said the child's mother left the residence – and while she was gone, he heard the child "gasp for air. Antonio Homan ran into the bedroom." The complaint says, "Rather than calling 911, Antonio Homan called Price's mother and relayed that something was wrong with Price." The mother called 911.  The complaint indicates that based on the "severity of the injuries to Price and the lack of any explanation that would account for the severity of Price's injuries," Homan and the boy's mother were arrested.  A board-certified child abuse pediatrician with Children's Wisconsin conducted a clinical consultation on the child, the complaint says. The doctor said the child's "entire clinical presentation was consistent with suffering abusive head trauma, formerly shaken baby syndrome." Shortly after midnight on Oct. 4, Price was removed from life support and pronounced deceased.
October 2nd,  2021:  Fred Edwards Jr., Age 62, Fitchburg, WI
The woman accused of stabbing a man to death in a Fitchburg apartment building over the weekend is being held on a $1 million cash bond.  Kania Quinn, 33, appeared in Dane County Court on Wednesday for an initial appearance. According to online court records, she's facing a charge of first-degree intentional homicide in the murder of 62-year-old Fred Edwards Jr.  Fitchburg police arrested Quinn on Monday. Quinn and Edwards Jr. were living together, according to the Fitchburg Police Department.  Edwards Jr. died at a local hospital after he was found unresponsive in an apartment building hallway early Saturday morning.
According to a criminal complaint, Edwards Jr. suffered a single stab wound to his chest. The Dane County medical examiner later confirmed he died from the wound.  When detectives contacted Quinn via phone to ask her about what happened to Edwards Jr., she denied knowing. Later, after she was arrested, Quinn reportedly admitted to stabbing Edwards Jr. on two separate occasions in Illinois. She served a prison sentence for the most recent incident and was released in 2020.  Authorities said Quinn then admitted to getting into an argument with Edwards Jr. shortly before he was found dead. The criminal complaint alleges she was armed with a knife during the argument and said she may have "struck" him with it but later added if she stabbed him it was "unbeknowingly."Quinn also admitted to throwing two knives out a car window while driving on a highway hours after Edwards Jr.'s death, according to the complaint.
October 14th,  2021:  Mallery Muenzenberger, Age 25, Onalaska, WI
The Milwaukee Police Department is canvassing neighborhoods on the city's north side on Thursday afternoon, Oct. 21 in the search for 3-year-old Major Harris.  Inspector Paul Formolo indicated officers are working off a new lead. He would not confirm what that lead was – but said officers would be searching areas from Hadley to Meinecke (north to south) – and 33rd Street to Sherman Boulevard (east to west). Investigators planned to focus on not only yards but vacant homes and garages in the area.  Officials say any member of the community that is interested in taking part in the search is asked to check-in with an MPD representative at the command post – located near 35th and Center. That is so officials can assign specific areas to search.  Major Harris was last seen on Oct. 9. Major's mother, 25-year-old Mallery Muenzenberger, of Onalaska, was found dead Thursday in the backyard of a Milwaukee home. Authorities said 20-year-old Jaheem Clark, of Milwaukee, a person of interest in Muenzenberger's death and a suspect in Major's disappearance, killed himself Sunday after police arrived at his home.
Meanwhile, the family of Muenzenberger released a statement on Thursday, Oct. 21. It reads as follows:
"On behalf of the family of Mallery Muenzenberger and Major Harris, we want to extend our many thanks to the Milwaukee community volunteers and the Milwaukee Police Department for all of your diligence in searching for Major. It has truly been a helpless feeling for all of us that have not been able to assist in the search for Major due to having to prepare for Mallery's funeral.  We are heartbroken as we prepare to say our final goodbyes to Mallery who was taken from us in such a violent fashion.  Mallery was a beautiful kind soul who loved her little boy with all of her heart.  She raised him as a single mother, working 2 jobs at times trying to provide for him.  Her early aspirations were to become a nurse, and she would have made a very caring one!  Mallery became involved in a life she never shared with our family.  She was much too private.  She was an honest person with too much trust we have found out.  As we have been searching through her belonging's we came across her high school senior project. How ironic that the topic she chose to present was Domestic Violence Awareness.  Mallery faced her death in the hands of domestic violence in October, Domestic Violence Awareness Month.  Mallery was raised in a family unit based on their strong faith. She attended bible studies, bible camps, weekly church services and daily prayer.  Her son was her life – her joy – her purpose- her future.  She loved her family. As we look through the pictures of her growing up, we continually see her contagious, sweet smile. You couldn't help but be drawn to her lovable personality. She had a quiet, innocence about her. She never had to be the center of attention, more than likely she was the one smirking in the corner of the room with that devious look of hers.  Mallery's life will not be forgotten. We will never let her memory go. We will continue to search for her beautiful baby boy, Major and bring him home to Lacrosse, to the family that loves and cares for him. Major has been a part of Mallery's family since his birth and his missing has left an incredible void in our lives.  We will always approach the month of October with a new appreciation and awareness on her behalf.  We ask that all of us keep the victims of domestic violence in your hearts, and say a prayer that their souls rest in peace.  As we transition our focus of putting Mallery to rest, we will never rest until we locate Major. We are desperate for any information regarding his whereabouts. If you have any information please contact the Milwaukee Police Department, and bring Major home.  #majorstrong"
October 14th,  2021:  Major Harris, Age 3, Onalaska, WI
Milwaukee police on Thursday, Oct. 21 announced that missing 3-year-old Major Harris, the subject of an Amber Alert, was found dead near 35th and Rohr.  The investigation remains fluid and ongoing, Acting Police Chief Jeffrey Norman said. Norman could not confirm how long Harris was at the location where his body was found – inside a container behind a home.  An autopsy will be performed Friday, Oct. 22, the Milwaukee County Medical Examiner's Office confirmed.  The Milwaukee Police Department canvassed neighborhoods on the city's north side in search of Harris that afternoon after receiving a new lead. Inspector Paul Formolo did not confirm what that lead was but said officers would be searching areas from Hadley to Meinecke and 33rd Street to Sherman Boulevard. Investigators planned to focus on not only yards but vacant homes and garages in the area. Harris' body was not found in that search area.
Thursday's search was the most recent in a series of searches from Milwaukee to Germantown to Dodge County that unfolded in the days after the Amber Alert was first issued Saturday, Oct. 16. Norman said the Amber Alert went out as soon as the department learned a child was missing. On Monday, Oct. 18, police found a vehicle of interest in the Amber Alert. It was parked outside of a Milwaukee laundromat near Sherman and Villard. Police said the vehicle was found as part of a multi-jurisdictional search. Unidentified blood was found inside.  Harris was the son of a homicide victim, 25-year-old Mallery Muenzenberger of Onalaska, who was found dead near 37th and Clarke on Thursday, Oct. 14. One week later and roughly three miles away, her son was found dead.  "We're incredibly sad, heartbroken. We had so much faith that Major would be coming home to us," said Lori Hines, Muenzenberger's aunt. "He's with his mom now, and our faith will carry us through."
Jaheem Clark, 20, a person of interest in that homicide, was found dead of an apparent self-inflicted gunshot wound near 31st and Custer after police responded to a home on Sunday afternoon. Authorities have since arrested several people, but no charges have been filed.  Muenzenberger's family in the La Crosse area said they did not know about Clark. They hope victims of domestic violence find help.   "If anybody is in this situation, they ask for help. We had no idea. We had no idea. I can't imagine this type of violence. I can't imagine," Hines said
Muenzenberger's family is grateful that a community far from home did everything it could to help.  "We're very thankful for everything that everyone tried to do to bring Major home," Hines said.
Carlton Harris Jr., Major's father, joined search efforts after arriving from West Virginia. Harris described his son as "happy, energetic, always smiling." On Thursday, he walked past crime tape to learn his son was found dead.  Once the tape came down, community members gathered where the boy's body was found to both pray and discuss how to keep it from happening again.  "Anything involving our children, especially, it's going to be emotional, and we're going to take that to heart," said Dante Jordan, community activist. "We have to do a lot better job in protecting."
October 19th,  2021:  Marian Pizarro, Age 18 & Unborn Child, Sebastian Perez-Alvarez, Age 17 Kenosha, WI
Marian Pizarro                                             Sebastian Perez-Alvarez
Three people are dead and two others in critical condition following a shooting in Kenosha near 6th Avenue and 40th Place on Tuesday night, Oct. 19.  Kenosha authorities identified those killed as Marian Pizarro, 18, who was pregnant; Pizarro's boyfriend, Sebastian Perez-Alvarez, 17; and Jostin Gutierrez-Pagan, 24 — identified as the shooter. The two surviving victims were identified as Luz Pizarro-Perez, 35; and a 14-year-old who will not be named.  It was about 10:40 p.m. when the first 911 call came in. Officials said all that could be heard on the initial call was a lot of unintelligible screaming. Dispatchers were able to locate an address and sent officers.  Police arrived to find three people dead inside the home, along with two other individuals with critical injuries. One surviving victim was taken via Flight For Life to a hospital. The other surviving victim was transported to a nearby hospital.  Officials said this appears to have been a domestic-related incident. Police believe the shooter lived in the home with the victims, including his girlfriend, Luz Pizarro-Perez.
"A tragedy like this is beyond comprehension," said Interim Kenosha Police Chief Eric Larsen.  Kenosha Mayor John Antaramian issued the following statement in a news release:  "As a community, we are shocked and saddened by this senseless loss of life. This year we have had 12 homicides and two-thirds of the cases have been results of domestic violence. The current hardships people are facing – including the pandemic – seems to have escalated conflict in some households. If you know of someone in crisis, please consider sharing community resources to find them the help they need."
With investigators piecing together what happened Tuesday night in Kenosha, domestic violence victims' advocates say the need for prevention has only increased amid the coronavirus pandemic and that domestic violence is a problem that's not unique to Kenosha.  "Domestic violence and sexual violence have always been issues, and they're always in the community and they're something you can never stop working," said Byron Wright, interim director at Women and Children's Horizons in Kenosha. The organization aims to prevent domestic violence.  "What we've kind of told people about COVID is 'safe at home,'" said Wright. "Well, if you're in a domestic violence situation, you're not safe at home, and then you're spending more time at home."  Wright says it's important for victims to reach out and be aware of their situation – and to also realize they're not alone, because help is out there.  For those struggling with mental illness or other stress-related conditions, a Crisis hotline can be reached at 262-657-7188. Women and Children's Horizons offers help for those dealing with domestic violence and can be reached at 262-652-9900.
October 20th,  2021:  Unnamed Father, Age 37, Brown Deer, WI
A 22-year-old man is accused of fatally shooting a 37-year-old man in Brown Deer.  Authorities say the victim's daughter lived with the victim's mother near 49th and Spring Lane, and resided in a bedroom with 22-year-old Keenan Bryant .  According to a criminal complaint, the victim and others had become aware over the last couple months, of red marks and bruises on the victim's daughter. They believed Bryant was abusing her, although the victim's daughter denied the abuse was occurring, the complaint says. Officials say it is unknown whether the abuse occurred or not but the victim believed that it had happened.
On Oct. 20, investigators said the victim — along with his girlfriend — went to his mother's home to work on a car and to confront Bryant to tell him he couldn't live there anymore.  According to the criminal complaint, the victim walked toward the back bedroom where Bryant had been staying and "within seconds" was shot three times. One of the bullets also struck a kitchen window, where the victim's girlfriend was present.  Officials say Bryant then exited the home and ran from the scene.  Police were able to obtain video from a nearby house that shows the victim and his girlfriend arriving to the home and entering. Moments later, the victim's girlfriend and mother are seen rushing out of the home, followed by a man exiting the front door and running down 49th Street.  Officials searched the area where Bryant ran, and located a handgun in a wooded area.  Investigators searched the home, and found ID's and other paperwork with Bryant's name on it. Officials also found spent bullet casings from that matched the gun recovered.  Bryant was charged with one count of first degree intentional homicide, use of a dangerous weapon, and another count of first degree recklessly endangering safety, use of a dangerous weapon.
October 21st,  2021:  Green Bay Shooting was Attempted Murder/Completed Suicide Green Bay, WI
Police say a woman shot in an apparent attempted-murder/suicide is expected to survive but will be in intensive care for some time.  Officers  were called to a duplex on Imperial Lane on the city's east side at about 8:30 p.m. Thursday. They found the woman "semi-responsive" with her two young boys trying to save her life. The 35-year-old woman suffered a single gunshot wound.  A 55-year-old man was found dead from a self-inflicted gunshot wound.  "When officers arrived they discovered a party that had sustained some significant injuries. They also located a person who was deceased inside one side of the duplex," said Lt. Brad Strouf.  "The male and female had recently separated but were living near one another," said Capt. Ben Allen.  No names were released, but police say they weren't aware of any history of violence and there were no prior police calls to this address.  Police say there was a language barrier with the Asian family. A Hmong officer was called in, but the family speaks a different dialect. Capt. Allen said an 11-year-old provided the best statement to police, then "some other family members were able to kind of fill in some of the blanks for us, and we were able to determine that this was an attempted homicide and then a suicide."  "The Green Bay Police Department wants to remind our community that there are many services in our area that are available to assist anyone that finds themselves in an abusive relationship, along with services for those who are struggling with relationship and emotional concerns," Allen said.  "We need to make sure that family members are keen to what their loved ones are going through and really be that hand that leads them to some services, to some resources and to law enforcement if that's what's needed," he added.
CLICK HERE for a list of resources for domestic violence.
October 21st,  2021:  c, 27 , Ashwaubenon, WI
A man and a woman are dead after a standoff in Ashwaubenon Thursday. They were identified Thursday night at Karissa Peronto, 27, of Ashwaubenon and Bryan Morales, 26, of Green Bay.Peronto's family released a statement through her employer, Prevea Health:
Prevea president/CEO issued a statement, as well:
Ashwaubenon Public Safety says they were asked to do a welfare check at a home on the 2300-block of Cedar Ridge Dr. after Peronto didn't show up for work or respond to text messages that morning. Police say officers heard a scuffle in a garage there and then multiple gunshots.  Public Safety Chief Brian Uhl says officers did not fire any shots. Brown County SWAT was called to the scene and officers prepared for an armed standoff.  Police did not identify who they believe fired shots. During the investigation, Uhl said the suspect had a criminal record. "The suspect that we know right now has a criminal history, a violent criminal history, so we're trying to take all precautions," said Uhl.  Online court records show in 2016 Morales was convicted in Brown County of three counts of child abuse and three counts of sex with a child 16 or older. He was sentenced to three years in prison and had to complete a domestic violence program. In 2019, he was convicted in Dane County for false imprisonment. The Department of Corrections website shows he was released from a state prison in April and was on extended supervision. Online records don't show Peronto had any criminal offenses.  Police evacuated residents of the four-unit apartment building on Cedar Ridge. Meanwhile, neighbors received an emergency alert on their phones telling residents near Cedar Ridge to shelter in place "due to shots heard." Chief Uhl said people living within a quarter mile of the scene were asked to stay in their homes. Officers blocked off a part of Cormier Road to traffic. Assistance came from the Brown County Sheriff's Office, Wisconsin State Patrol, and the Green Bay, De Pere and Hobart-Lawrence police departments.  After a number of attempts to make contact, the SWAT team placed a camera inside the garage and saw a man and a woman lying on the floor. The SWAT team went in and confirmed they were dead.  "We believe that there is no threat to the public," Uhl said in the brief update Thursday afternoon.  On Friday, advocates said the crime was an act of domestic violence.  Roads reopened by 2 o'clock in the afternoon.  Adam Frich, who lives nearby, said, "Everyone on this street pretty much knows each other in some fashion — if not by name by acquaintance, by waving, everything else. It's a very quiet and nice neighborhood to live in.""It's just sad to think that something so gut wrenching can happen here. It's just sad. We are all in shock. All of us. Speechless," another neighbor, Robyn Janelle, said.
November 1st,  2021:  Susan Reese, 63 , Antigo, WI
The Antigo Police Department identified the victim of an ongoing homicide investigation Tuesday. Susan Reese, 63, was found dead, stabbed to death in a home in Antigo Monday morning.  Police are still searching for the person of interest, Derek Goplin. According to the family, Goplin is Reese's son. Police said he was most recently believed to be near Waukesha. Family members gathered Tuesday, remembering their loved one.  "Aunt Suzi was always taking care of family," said Reese's great-niece Bailey Slater. "Family was the focal point of her life."  Reese was known in the Antigo community for having owned the restaurant "Game On" with her husband that has since closed.  "Some people might remember her and her grandson walking around the restaurant, helping out when needed," said Slater.  "She was precious," said Reese's mother D'anna Cox. "I'm the proudest mother in the world."  "She would drop everything," said Reese's niece Shannon Conrad. "It didn't matter if it was an emergency. Her heart was most important."  Goplin is still at-large and is a person of interest according to police. According to police, Goplin may be driving a 2016 red Ford Explorer with a Wisconsin license plate RANDYR.  Officers say you should use caution if you see Goplin and immediately call 911. Goplin may have a knife and is known to carry a gun.
November 8th,  2021:  Man who shot woman, killed dog in Oregon dies after shooting self
A 28-year-old man who shot a woman and killed a dog inside an apartment in Oregon last week before turning the gun on himself has died, police said Monday.  The Oregon Police Department said the man died from his injuries at an area hospital. The 29-year-old woman was hospitalized but has since been released.  The shooting happened just before 7:50 a.m. November 8 at an apartment in the 500 block of South Perry Parkway. As officers and deputies from the Dane County Sheriff's Department responded to the scene, they heard gunshots, police said in a news release.   When officers got to the apartment, they found the man and woman with gunshot wounds and one dog dead. Animal control rescued another dog from the home later that day.  Police said they believe the two were in a domestic relationship.  Officers found a handgun they believed the man used in the shootings, police said.  Officials have not named the man or woman involved.
November 21st,  2021:  Woman Stabbed, Man Found Dead

The Oak Creek Police Department found the male suspect of a domestic violence call dead in a room at the Red Roof Inn in Oak Creek early Sunday morning, the department said in a news release.  Police were called to the area for a call reporting domestic violence and stabbing battery. Police said in a news release a woman involved in the call was stabbed multiple times and sent to a hospital. Police attempted to get into the suspect's room with no answer.  Police found the man dead when they eventually gained access. The investigation remains active, according to police.
December 2nd,  2021:  Susan Wilke, 77, Middleton, WI
A Middleton man was charged Wednesday in connection to his grandmother's death last week.  Thomas Wilke, 27, is now charged with first-degree recklessly endangering safety. The felony count carries a use of a dangerous weapon enhancer.  Middleton Police had previously reported Wilke was behind the wheel of a car in a parking lot when the victim, identified as Susan Wilke, 77, of Middleton was hit with a car door. Susan Wilke is the defendant's grandmother.  A criminal complaint filed in Dane County Wednesday said Thomas Wilke had shown up to the victim's place of employment on the 7700 block of Terrace Avenue.  The complaint said the defendant told an investigating officer that he had gotten in an argument with the victim and was attempting to drive away out of the parking lot. Thomas Wilke told authorities the victim had opened the driver-side door.  Wilke told officers that he thought he had put his vehicle into drive, however, he put the vehicle in reverse instead. Wilke told investigators that the open door made contact with his grandmother, causing her to fall and hit her head on the pavement.
The complaint shows a different account of what happened from a witness. The witness told investigators they saw an older woman approach a vehicle and saw the driver open the driver-side door, hitting the woman and pushing her back.  The witness told investigators they later saw a sign knocked over and could no longer see the woman and that the driver was now standing next to the car.  The complaint said Thomas Wilke had moved in with his grandmother recently. The complaint also states that other family members told authorities that the suspect and victim had a history of fighting and verbal abuse.  During an initial appearance Wednesday, his public defender, Diana Van Rybroek, moved to dismiss the criminal complaint because the information provided points to an "accident."  The court commissioner presiding over the initial appearance found probable cause to charge Thomas Wilke.  Cash bail was set for $2,500. Wilke is also not allowed to drive, have any contact with his family or be at the victim's house.  He's due back in court December 21.
December 6th,  2021:  Jose Stanton, 28, Milwaukee, WI
Milwaukee police believe an argument is what led to the fatal hotel shooting of Jose Stanton, 28, near 6th and Vine Monday night, Dec. 6.  It happened at approximately 11:20 p.m. at the Days Inn and Suites.  The suspect remains at large.  Erica Hunt, a friend of Stanton who called him by the nickname "Rico" said he was working as a security guard at the hotel.  "He did his job too well," said Hunt. "He did his job too well and he paid the ultimate price for doing his job too well."  Hunt said there was an apparent dispute between a woman and her boyfriend Monday night and Stanton told them they had to leave.  She explained that the man returned to the Days Inn and shot Stanton.  Milwaukee police said the 28-year-old was shot multiple times and died at the scene.  MPD confirms the "circumstances leading up to the homicide appear to be argument related."  Hunt described Stanton as a protector, and as someone who was loving, caring and would stand up for strangers.  "I lost my brother. I lost my brother," she cried. "I'm going through something in my life and he called me yesterday and I woke up this morning to return his call back. I lost my protector. When I hit the street is my comrade going to be there to protect me then?"  Hunt said that Stanton confided in her about previous troubles at the hotel.  She said she offered to help him find other work but he declined, telling her he was just 'doing my job'.  If you have any information, contact Milwaukee police or submit an anonymous tip via Crime Stoppers at 414-224-TIPS.
December 6th,  2021:  Jeazell Woodruff, 54, Jason Wilhelm, 42, Kevin Becker-Wilhelm, 7- Milwaukee, WI
Jeazell Woodruff                                           Jason Wilhelm                              Kevin Becker-Wilhelm
The Milwaukee County medical examiner has identified the four people who were found dead in a murder-suicide near 49th and Oklahoma.  Pathologists at the medical examiner's office performed autopsies Thursday, Dec. 9, concluding the date of death was Monday, Dec. 6.  Records show 54-year-old Jeazell Woodruff, 42-year-old Jason Wilhelm, 7-year-old Kevin Becker-Wilhelm were victims of homicide. Fredrick Holmes, 49, the suspected shooter, died by suicide.   The autopsy reports say Holmes and Woodruff lived together in one unit of the duplex. Woodruff's family said the pair was engaged. Wilhelm and Becker-Wilhelm lived in the other unit. The three homicide victims were all found dead in Wilhelm's unit. Holmes was found dead in his unit.  Police were initially called to the residence for a welfare check, responding around 11:45 a.m. Wednesday.  Domestic violence prevention advocates say it's time for our community to step up and help those who are vulnerable.  The scene was mostly quiet Thursday. From the alley, there were signs of what once was, like an empty children's playset and remnants of crime scene tape.  "When such horrendous violence happens, it's so painful, so heartbreaking," said Carmen Pitre, Sojourner Family Peace Center.  This latest act of violence in the home has caused concern for prevention advocates like Pitre. She fears our society downplays violence and says we're in dire need of systemic solutions.  "We've gotta look at it head-on and say, 'What can I do from where I am in the community? How can I contribute to helping those who are isolated?'" said Pitre.
December 15th,  2021: Man in Hobart standoff dies from self-inflicted gunshot wound
The man suspected in a domestic incident in Hobart has died from a self-inflicted gunshot wound.  The 40-year-old man was found in a wooded area Wednesday after a several-hour standoff with authorities.  Hobart police were called to an apartment building on Centerline Drive for a domestic disturbance Wednesday morning.  The caller, a 25-year-old woman, said her boyfriend was threatening to kill her.  The woman said during the disturbance, her boyfriend fired a round from his handgun. She was able to leave the residence with minor injuries from the disturbance, police say.  Officials tried to make contact with the man who was still inside the residence for several hours but he did not respond.  With the use of a drone, officials were able to locate the man outside the apartment and took him to a local hospital where he was pronounced dead.
December 23rd,  2021:  Lauren Storts, 27, West Allis, WI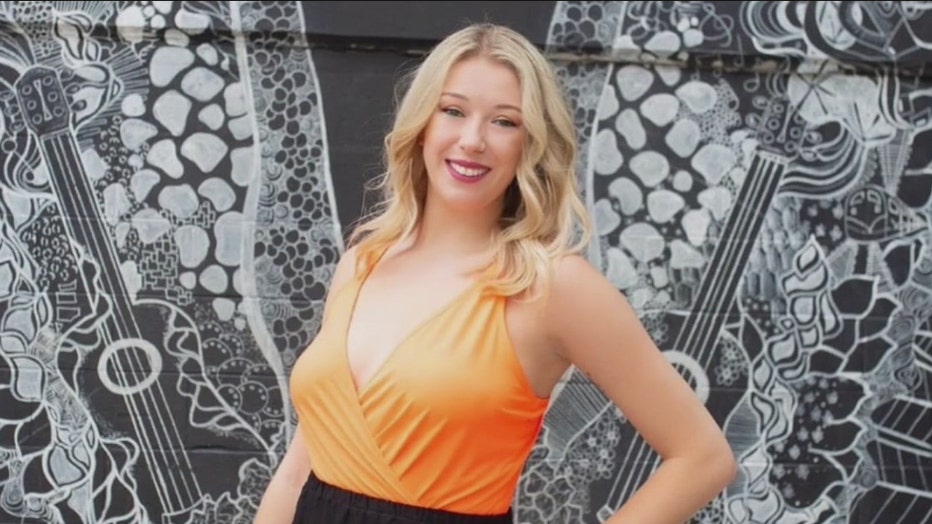 West Allis police say the man suspected of shooting and killing a woman before turning the gun on himself was arrested on domestic violence charges just days prior.  The woman's family said she was trying to leave a relationship with the man, and now Christmas will never be the same.  "She was one of the greatest sisters anyone could have wished for," said Ciara Storts, Lauren's sister.  Ciara Storts said her sister, a University of Wisconsin-Milwaukee student in biomedical sciences and a Wauwatosa restaurant employee, worked hard to provide a better life for her young daughter. She was supposed to spend the holiday with her family in the Chicago area.  Late Thursday night on her birthday, Dec. 23, family asked West Allis police to do a welfare check at a home near 93rd and Orchard.  "When she wasn't active on social media all day, my brother actually called to do a wellness check on the residence. And that was roughly at 10 p.m. because everybody was trying to reach her all day," said Ciara Storts.  Hours earlier, Lauren Storts did not pick up her young daughter.  West Allis police said officers showed up around 10:20 p.m. and found Storts' body as well as the body of 41-year-old Donovan Hansen. Storts had been shot and killed, and Hansen turned the gun on himself.  "How is that fair to a mother, to anybody? A mother, a daughter, a sister," said Ciara Storts.  Police now confirm that Hansen was arrested on Dec. 20 – just days before the shootings – on misdemeanor offenses of disorderly conduct, criminal damage to property and dissuading a victim from reporting.  Ciara Storts said her sister and Hansen had a good relationship for a couple of years before it recently soured, and her sister tried to get out of it, but was still looking for a place to live with her daughter.  "Two days ago she was voicing to me that she wanted to get out of the relationship and that she planned on leaving…was actually going to come stay at my apartment with the baby," Ciara Storts said.  Storts' family said funeral arrangements are still pending  Police said their investigation into the shootings is ongoing, but that it is isolated and there is no danger to the public.
December 27th,  2021:  Amanda Ducharme, Age 43, Milwaukee, WI
Dennis Kurasz is accused of killing his girlfriend in a Milwaukee business. He later admitted he suspected his girlfriend, Amanda Ducharme, 43, and son were secretly steering away business to their own operation, according to the criminal complaint. Dennis Kurasz, 44, called police to his auto recycling business, A-1 Junk Cars at 4900 N. 32nd St., and said he and the victim had been attacked by robbers.  Ducharme was found in a bathroom, part of an apartment located within the same building, with extensive head injuries. Kurasz told police he had struck Ducharme repeatedly with a concrete-bottomed rodent trap.
At the time, Kurasz was out on $250 bail in an April case in which he was charged with domestic violence against Ducharme, and with having a gun as a felon. He was not to have contact with Ducharme. After the May 1 domestic violence incident, Ducharme told police she feared Kurasz because he told her if she ever put him in jail, he'd kill her.  Notes in that case indicate that he would have been put on a GPS tracking bracelet while out on bail — if any became available. With more defendants out longer awaiting trials since the start of the coronavirus pandemic, there has often been a shortage of the devices.  Milwaukee County Chief Judge Mary Triggiano said more than 120 people are on a waiting list for electronic monitoring, and that Kurasz was among them.  Now facing a charge of first-degree intentional homicide, Kurasz is being held at the Milwaukee County Jail, with bail set at $250,000. If he could post that amount, he would be subject to electronic monitoring. If there were still no available GPS bracelets, Kurasz would have to post $275,000 to bail out. His preliminary hearing is set for Jan. 11.